Available industries: Chemical Factory
Project boiler medium: Steam
Equipment: WNS4-1.25-Q(Y)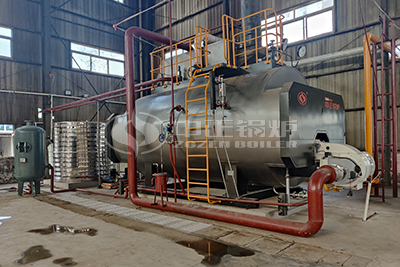 Introduction:
This project is a warehousing service company that mainly provides petrochemical products and needs to purchase a stable and efficient industrial fire tube boiler to provide high-temperature steam for production.
To fulfill the company's high performance and environmental protection requirements for the boiler, they chose ZOZEN's 4000 kg fire tube boiler run with oil and gas dual-use, which enabled them to achieve efficient and eco-friendly petrochemical product warehousing services.
This 4000 kg capacity steam boiler has a two-fuel applicability, allowing for the use of different fuels depending on the fuel supply situation, resulting in improved flexibility and efficiency in boiler operation. Furthermore, the WNS series industrial oil gas boiler from ZOZEN have excellent environmental performance due to their fully automatic control system, which effectively reduces CO2, NOx, and other pollutant emissions and fully meet the user's requirements for environmental protection.