First of all, we need to understand that 1 ton of water needs to absorb heat to become steam, and this calorific value requires natural gas to burn to release heat, which is transferred to the medium water through the boiler equipment, and the physical properties of the heat absorbed by the water change, and the low-temperature water becomes high-temperature water. Gasification becomes water vapor.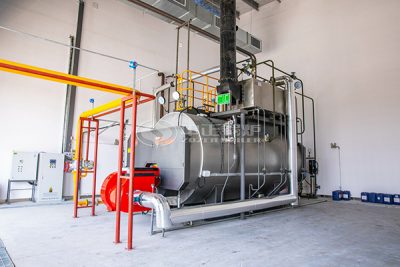 The calculation formula of gas consumption of gas boiler is:
Gas steam boiler gas consumption per hour = gas boiler output ÷ fuel calorific value ÷ boiler thermal efficiency
Take ZOZEN boiler WNS1-1.25-Q as an example. The boiler thermal efficiency is 98%, and the fuel calorific value is 8600 kcal per cubic meter. Normally, 1 ton of water needs to absorb 600,000 kcal of heat value to turn into steam, so 1 ton of gas The boiler output is 600,000 kcal, according to the formula: hourly gas consumption of 1 ton gas boiler = 600,000 kcal ÷ 98% ÷ 8600 kcal per cubic meter = 71.19m3
In other words, for every ton of steam produced, about 70-75 cubic meters of natural gas are consumed. Of course, this method only calculates the boiler gas consumption in an ideal state, and the boiler system may also produce a certain loss, and only a rough estimate can be made. Although the result is not very accurate, it can basically reflect the efficiency of the boiler.
Get Boiler Quotes Now
✔Get a Speedy Free Quote
✔One-on-One Sales Manager Service
✔Save Your Money and Time
ZOZEN can produce 1 ton to 110 tons gas steam boilers. This WNS series horizontal fire tube boiler adopts a highly automated control system, and the combustion, water level, temperature and steam pressure can be adjusted automatically with high safety performance. With compact structure and small footprint, WNS series gas fast-fit boilers are very suitable for small and medium-sized enterprise production lines with limited boiler room area.
This gas steam boiler is exported to many countries as ZOZEN star product, such as 6 tons gas boiler for Malaysia rubber industry, 8 tons three-pass gas fired boiler for Pakistan textile factory, 2 ton fire tube boiler for food industry, 15 tons three-pass steam boiler in Dominican Republic, etc. Customers are satisfied with the operation of ZOZEN boilers. If you want to get more boiler related parameters, case details or company information, please feel free to contact us via online chat button, WhatsApp or email.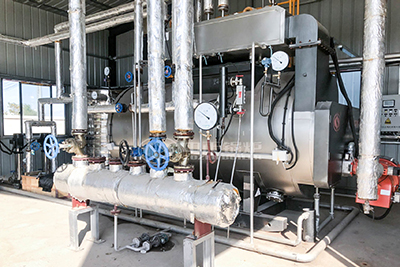 Auxiliary Equipment of 1 Ton Natural Gas Boiler
Active control equipment: active detection, program control, active protection and active adjustment.
Air supply equipment: The atmosphere heated by the atmosphere preheater is sent to the furnace and the coal grinding device through the blower.
Dust removal equipment: remove the fly ash from the steam of the boiler.
Water-supply equipment: The water-supply pump will send the water after treatment by the water-disposal equipment into the boiler.
Induced wind equipment: The flue gas generated during the operation of the boiler is sent to the atmosphere through the induced draft fan and the chimney.
Dust removal and slag removal equipment: remove the ash and slag from the steam boiler and transport it away.
Fuel supply equipment: storage and transportation fuel efficiency.
For more gas boiler related questions, please consult Wuxi ZOZEN Boiler Co., Ltd. There will be professionals to provide you with one-to-one service.