Available industries:
School
Project boiler medium:
Steam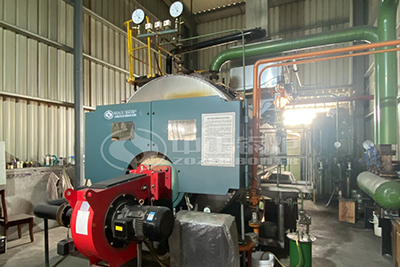 A 2 ton industrial steam boiler can usually provide steam for a school laundry or cafeteria. The customer found ZOZEN Boiler through the Internet and made a demand for the boiler. According to the actual usage, ZOZEN boiler sales engineers provided the customer with the ZOZEN WNS series fuel gas steam boiler, which is an energy-saving and environmentally friendly product. The boiler body adopts a large diameter corrugated furnace liner, and is also equipped with a low-NOx burner to ensure NOx emissions as low as 30mg/Nm3. This 2 ton steam boiler has the feature of automatic intelligent control, which can ensure the safe and stable operation of the boiler for a long time. The boiler flue tail is equipped with energy-saving equipment such as condenser and energy saver, which can effectively reduce the heat loss of exhaust smoke and improve the thermal efficiency to more than 98%.
The overall structure of this series boiler is reasonable and compact, and it is a boiler island type, which meets the conditions of quick installation in the factory. The product is composed of three major parts: the main boiler, chimney and piping system, of which the main boiler and the chimney have been manufactured in the factory, and the piping valves and instruments supporting the main boiler have been installed randomly, so the main boiler and the chimney can be assembled on site. The gas source, power supply and water pipeline can be connected to the site for commissioning. The installation period is greatly shortened, and the quality of the product can be guaranteed.