Available industries:
Chemical Industry
Project boiler medium:
HMO (Heat Medium Oil)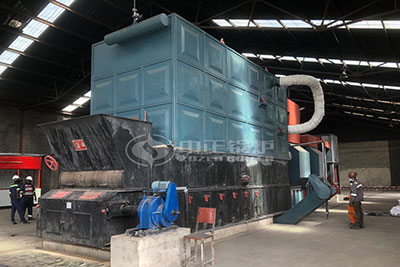 In the chemical industry, Saint-Gobain Lodia Gypsum Industries Ltd. is a manufacturer of gypsum board for sale in Tanzania, Kenya and adjacent areas. In the process of gypsum board production, a large amount of high temperature steam is used for drying the products. The purchasing department was very satisfied with ZOZEN boiler's service and products after strict screening and inspection.
ZOZEN engineers recommended a YLW series coal-fired thermal oil heater for the actual needs of the gypsum board production line. The actual thermal efficiency of this coal-fired boiler thermal oil boiler reaches more than 85%. The boiler body adopts multi-loop square coil design, with highly efficient insulation materials and advanced construction technology, which can produce higher temperature under lower pressure.
The 6 million kcal coal-fired thermal oil heater is equipped with a fully automatic intelligent control system, which can regulate the boiler parameters according to the user's specific operating environment, with a high degree of automation and stable safety performance. The chemical plant customer said that ZOZEN's sales manager was very responsible and double-checked the delivery schedule and dimensional drawings and other information. The whole cooperation with the boiler was pleasant and smooth, and the customer was very satisfied with this purchase.