Available industries:
Organic Bentonite Production
Project boiler medium:
Steam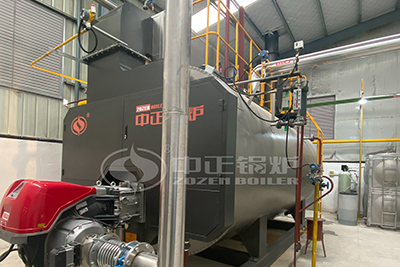 Organic bentonite as a thickener for coatings, paints, inks, high temperature grease, cosmetics and other products, has good colloidal dispersion, thickening, adhesion, thixotropy and suspension stability. The customer's chemical plant, a foreign-owned company of the Hynes Group in the UK, has a very high demand for steam in the production of organic bentonite. ZOZEN has a very good reputation in the chemical industry, so the customer searched ZOZEN's official website through the Internet, had a preliminary communication with the online customer service team, and expressed the need for a steam boiler.
Through the WhatsApp and email left by the customer, ZOZEN's sales engineer got in touch with the customer in time. After a detailed communication on the boiler's usage industry, the scale of the production line, the actual amount of steam used for daily anger and other details, the WNS series gas steam boiler system was recommended for the customer. This boiler uses clean energy as fuel, with imported low-NOx burners to ensure full combustion of clean energy fuel, effectively inhibit the generation of nitrogen oxides, and meet the increasingly stringent boiler emission standards and local environmental protection policies.
This WNS series 6 tons steam boiler has a compact structure and small footprint. The design team reasonably arranges the boiler system according to the actual situation of the customer's boiler room to meet the safety regulations of the boiler room while effectively helping the customer to solve the problem of limited space in the boiler room. At the same time, it is a highly automated industrial gas boiler with automatic control system and LCD display. Users only need to set it easily, and the boiler can automatically start and stop, adjust the temperature, pressure and other parameters, thus reducing the mistakes caused by human operation and making it safer and more efficient.