Available industries:
Feed mill
Project boiler medium:
steam
Capacity:
10 tons per hour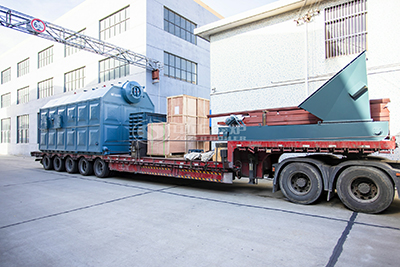 The Nigerian customer's feed mill production line needed a steam boiler to provide a stable amount of steam for the pelletizing, drying and disinfection processes, so he found ZOZEN's online engineer through the Internet and proposed the need to purchase a 10 ton steam boiler. The customer had a detailed understanding of the company's background, production strength, and certificates through ZOZEN's website. The engineer invited the customer to visit ZOZEN's production base by video link and introduced the automated production equipment in detail for the customer, which made the customer more confident in choosing ZOZEN as the steam boiler supplier.
In order to meet the customer's production schedule, ZOZEN factory signed a contract with the customer for the purchase of SZL10-1.25-AⅡ model coal-fired boiler, the boiler workshop staff immediately put into production, and after close cooperation of various teams, this 10 ton coal-fired boiler was completed within the contracted time and exported to Nigeria by sea, providing sufficient power for the feed mill production line Support.
This SZL coal fired steam boiler, furnace type with rated evaporation capacity of 10t/h, steam temperature of 194℃ and feed water temperature of 20℃. The SZL series steam boiler belongs to the assembly structure, consisting of two large parts, the front end of the boiler body is surrounded by a water-cooled wall, the upper part is connected to the pot, the lower part is connected to the collector box to form a combustion chamber to absorb the radiant heat of the furnace, the rear end is arranged between the upper and lower pot with a dense convection tube bundle, and the high temperature flue gas after combustion is led to the separately arranged coal economizer after the secondary return lateral flushing convection heating surface, and finally enters the dust collector It is discharged through the chimney and is currently operating very stably at the project site.
The 10 ton coal fired boiler produced by ZOZEN has many advantages such as low cost of use, good economic efficiency and stable product performance, and is loved by the majority of users, and is a very hot selling environmental boiler. This furnace model has improved structure in design, such as three-return structure design and threaded flue tube structure design, which improves the heat transfer effect of the boiler and well solves the previous problem of fuel waste, and reduces the emission of pollutants and makes the combustion cleaner.