Available industries:
Food Industry
Project boiler medium:
HMO (Heat Medium Oil)
Capacity:
3.6 million kcal
Equipment:YY(Q)W-4200Y(Q)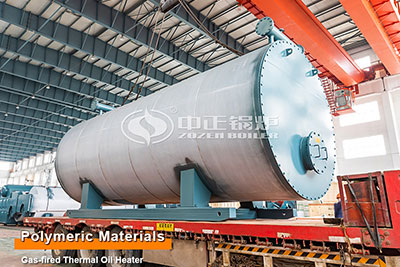 Industrial heat conduction oil boiler in the chemical industry is mainly used for distillation, evaporation, polymerization, condensation/demilking, lipidation, drying, melting, dehydrogenation, forced insulation and pesticides, intermediates, aging agents, surfactants, spices and other synthetic equipment heating. ZOZEN's oil gas thermal oil boilers are equipped with perfect operation control and safety monitoring devices, which can accurately control the working temperature and effectively ensure the safe production and operation of the whole production base.
PUR hot melt adhesive is the use of advanced technology research and development of a functional material can make the surface layer and inner layer composite, in the production process of hot melt adhesive, the preparation of hot melt adhesive raw materials need to be added to the reactor, heating up to make it melt, and stir evenly, therefore, high temperature has a direct impact on the performance of hot melt adhesive. This time, the chemical plant customer purchased a 3.6 million kcal gas fired thermal fluid heater from ZOZEN.
Compared with steam boiler, heat conduction oil boiler under low working pressure to produce a higher temperature, ZOZEN YY (Q) W series gas thermal oil heater adopts three return circular tube structure, by reducing coil tube department, its ring coil pipe flow is bigger, more safe and reliable in high temperature operation, not only meet the demand of soap ocean science and technology of high temperature, also ensure the safe production of the enterprise.
This series of boiler inner uses the high quality insulation material, external uses the stainless steel plate, reduces the heat loss to the greatest extent, and the boiler is equipped with the high efficiency heat transfer system, can effectively improve the boiler's thermal efficiency to more than 95%. In addition, the thermal oil furnace fuel developed by ZOZEN has a wide range of application, which can be applied to natural gas, coke oven gas, methane, heavy oil, diesel fuel and other fuels. Enterprises can choose according to their actual needs.
Customers spoke highly of ZOZEN's products and services. They said that ZOZEN boiler adopts advanced tooling and equipment, which saves the time of cooking oil on site. The boiler is packaged and transported out of the factory, and can be directly put into operation after being connected to the ventilation power on site. ZOZEN provides operation training and guidance, thoughtful service, and very professional team! Welcome to industrial boiler needs of customers directly contact our online customer service.