Available industries:
Heating Industry
Project boiler medium:
Hot water
Equipment:SZS29-1.6/130/70-Q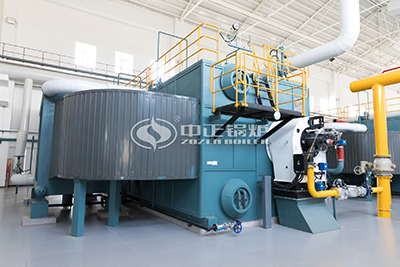 Inquiry Email: [email protected]
Usually, industrial hot water boilers are the main heating equipment in the heating industry. The company from AECOM Technology Group's participation in the United States needed to purchase a clean and efficient gas fired hot water boiler as the core heating equipment. As a well-known boiler brand in China, ZOZEN contacted the customer at the first moment after receiving the customer's boiler requirements, further discussed the hot water boiler parameters and actual heating area in depth, and recommended the SZS series gas-fired hot water boiler system for the customer.
According to the customer's local environmental protection policy and actual usage requirements, ZOZEN's designers customized a 29 MW hot water boiler for the enterprise. This SZS series water tube boiler adopts D-type double pot arrangement structure, large furnace chamber design as well as full-film water-cooled wall structure to improve gas tightness and enhance heat transfer, ensuring the boiler's high thermal efficiency of 95%. The heating hot water boiler can use various clean energy sources such as natural gas, coke oven gas, blast furnace gas, carbon black tail gas, biogas, etc. The reference value of gas fuel consumption is 2982 cubic meters per hour.
The customer was very satisfied with the process of cooperation with ZOZEN. After signing the contract, ZOZEN actively coordinated the production schedule to match the progress of the customer's heating project and completed the delivery of the 29 MW hot water boiler on time. ZOZEN's professional technical level, comprehensive service and rich project experience all gave the customer confidence and increased the trust of the customer.
ZOZEN Boiler Company is a state-approved boiler and pressure vessel manufacturing enterprise, holding Class A boiler manufacturing license, BR II pressure vessel manufacturing license, the United States ASME standard "S" (power boiler), "U" (pressure vessel) license steel seal, and fully passed the ISO9001: 2000 international quality system certification. ZOZEN has passed the ISO9001:2000 international quality system certification. ZOZEN team can customize industrial boiler system solutions according to the actual needs of customers.
If you want to know more about the project and pictures, you can get them by contacting us via Live Chat, WhatsApp and email. ZOZEN, as an industrial boiler manufacturer, has accumulated more than 15,580 successful cases over the past 10 years, with customers covering various industries worldwide, including textile industry, food industry, paper industry, feed industry, heating industry, chemical industry, pharmaceutical industry, etc.