Available industries:
Building Material Industry
Project boiler medium:
HMO(Heat Medium Oil)
Capacity:
3.6 million kcal
Equipment:
YQW-4200Q, supporting waste heat boiler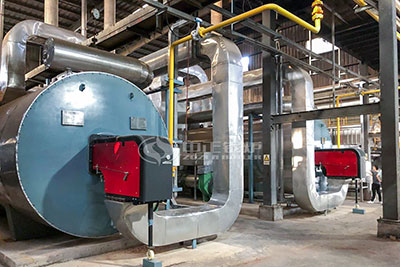 Case Introduction
In the process of wood-based panel production, the hot pressing process needs high temperature, so the heat conduction oil heater has become an important part of the wood-based panel production line. For the project in Ethiopia, Shanghai Hi-Tech Development Co., Ltd. selected ZOZEN YQW series 3600000 kcal gas fired thermal oil heater and matching waste heat boiler. In order to ensure the hot pressing quality of the wood-based panel, the temperature on the surface of the hot pressing plate should be as uniform as possible. Therefore, the high and new technology has put forward a clear requirement that the oil of heat conduction oil heater must be kept stable in moderate operation.
ZOZEN customizes YQW series boiler system for customers, using waste heat boiler to recover high temperature flue gas. The heat exchange of waste heat boilers produces steam to heat rolling mills, rubber mills, and other facilities that require steam heat sources. The waste heat boiler not only further improves the fuel efficiency, but also improves the overall thermal efficiency of the heater to more than 95%, and reduces the operating cost. In addition, many advanced equipment developed by ZOZEN provide a reliable guarantee for the high quality assembly thermal oil heaters.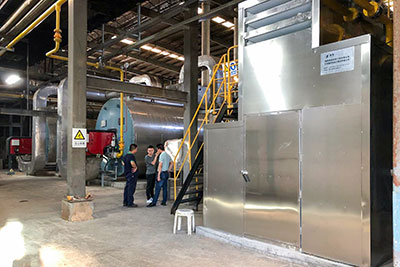 YQW 3600000 kcal gas fired thermal oil heater is a kind of product with low pressure and high temperature. Boiler module can be integrated installation, convenient operation and maintenance, is a safe, efficient, energy-saving ideal preferred heating equipment. The high temperature flame produced after the ignition of the fuel by the burner enters the inner coil tube to form a radiant heating surface, and enters the back of the inner coil furnace tube and rotates 180℃ forward to enter the sandwich area of the inner tube, middle tube and outer tube to form a convective heating surface. Then the upper part of the interlayer enters the second interlayer area of the middle pipe and the outer pipe, and finally it is discharged into the atmosphere through the chimney at the back of the second interlayer area.
Customer Feedback
ZOZEN thermal oil heaters are of reliable quality and easy to operate. The entire boiler system is equipped with advanced control system for automatic operation. In addition, the interlock protection function ensures the safety of the heater and makes us feel at ease when using it.