Available industries:
Chemical Industry
Project boiler medium:
Steam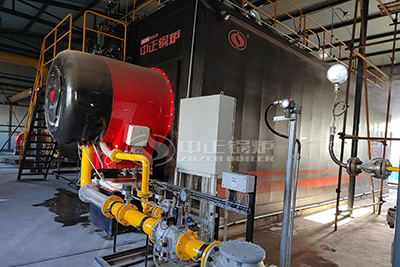 The customer's factory needs a lot of superheated steam in many processes such as distillation, fractionation and refinement of furfural and furfural alcohol, so the industrial steam boiler is very important. The chemical industry has always been a highly polluting industry so it can have strict requirements for emission standards, ZOZEN has customized 20 ton environmental protection type SZS series lpg steam boiler for customers.
The body of this boiler adopts the "D" shape structure, with one side being the furnace chamber and the other side being the convection heating surface, the heating surface of the body reaches 285.24m2, and the radiation heating surface is sufficient; the spiral fin condenser is adopted at the end, reducing the exhaust temperature, and the thermal efficiency reaches over 98%; the large space of the furnace chamber, together with the domestic and foreign advanced low-NOx With the large space of the furnace chamber and the advanced low-NOx burner at home and abroad, the ultra-low emission requirement of 30mg/Nm3 can be easily achieved, and the environmental performance fully meets the customer's demand.