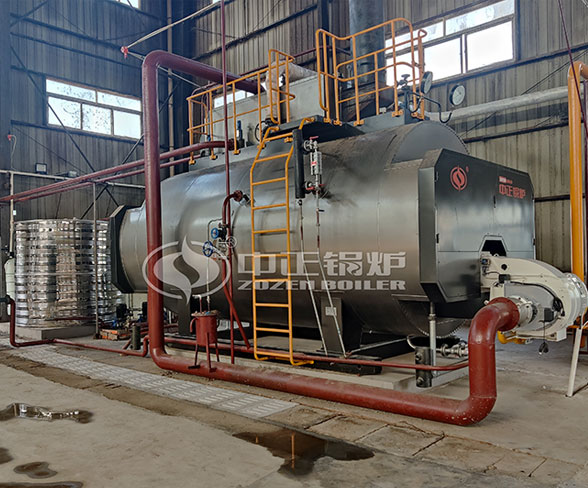 Place of Origin: China
Brand Name: ZOZEN
Certification: ISO, CE, ASME
Model Number: WNS6-1.25-Q
Minimum Order Quantity: 1 set
Price: Contact Aileen for Latest Price
Payment Terms: L/C, T/T
Packaging: Nude packing with foam for boiler body, wooden case for boiler accessories.
Detail Information
Output:

Steam

Steam Capacity:

6 Ton Per Hour, 6000kg/hr, 6tph, 3600000kcal, 4200kw

Fuel Design:

Nature gas, coke oven gas, biogas, liquid propane gas, diesel, heavy oil, light oil, crude oil, etc.

Design Pressure:

0.7-2 Mpa (7bar to 20bar)

Warranty:

1 Year

Structure:

3 Pass Fire Tube Wet Back Boiler

Factory:

ZOZEN boiler Co., Ltd.

Application:

Heat supplying, chemical, food, textile, printing and dyeing, cigarettes and tobacco, fodder, pharmacy, building materials, brewery, rubber, hospital etc.

Style:

Horizontal

Design Efficiency:

High Effciency 95%-99%

Condition:

New

Use:

Industrial

Product Name:

6 Ton Capacity Gas Fuel Fire Tube Steam Boiler
Gas Fired Steam Boiler Introduction
Industrial WNS series oil fired boilers have reasonable price, guaranteed quality, direct supply from source sales mode, sufficient supply, high cost performance. WNS series steam boiler is designed with three-return thread smoke tube, large fuel combustion in furnace and high thermal efficiency. Fully automatic control operation ensures lower energy consumption of the boiler. In terms of safety, it is equipped with multiple interlock protection and aluminum silicate double layer insulation effect to reduce heat loss of the boiler.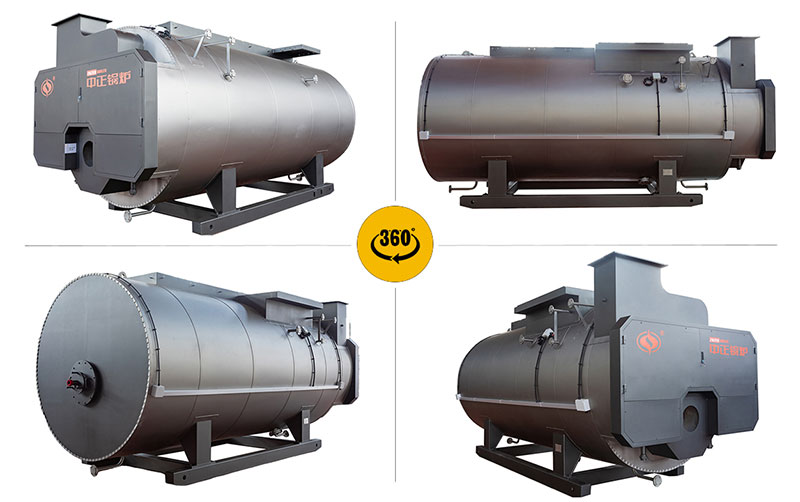 Technical advantages
Digitized manufacture

The key part such as material cutting, rolling, drilling are proceeded by advanced CNC machining process to reduce the assemble stress and extend boiler working lifetime.
The front and back smoke chamber plates are cut by CNC plasma cutting machine and looks tidy and beautiful.

Easy operation and maintenance

Fully automatically operating, with automatically adjustment and protection of burning, water level, temperature and steam pressure.

Longer working life

Smoke tube and tube sheet connection is expanded first to eliminate the gap between them, then adopt automatic argon arc welding to relief the stress and expand boilers working life.
Longitudinal and girth joint adopt advanced automatic submerged-arc welding for good welding quality. All longitudinal and girth joint will have 100% radiographic inspection.
Fin tube us ND steel or stainless-steel material which avoid low temperature corrosion.
Inspection procedure point is set up to guarantee the sequence of expanding and welding, avoid cracking of the tube sheet holes.

Less fuel consumption

High quality aluminum silicate fiber is used with fire clay insulation, to control the boiler body temperature below 45℃ to control heat lost.
Sufficient steam storage room and heating area makes boiler to generate high quality steam and high thermal power.
Condenser is added to reuse the waste heat of the exhausted smoke to increase feeding water's temperature and reduce emission temperature, which can increase the thermal efficiency above 98% and save operating cost.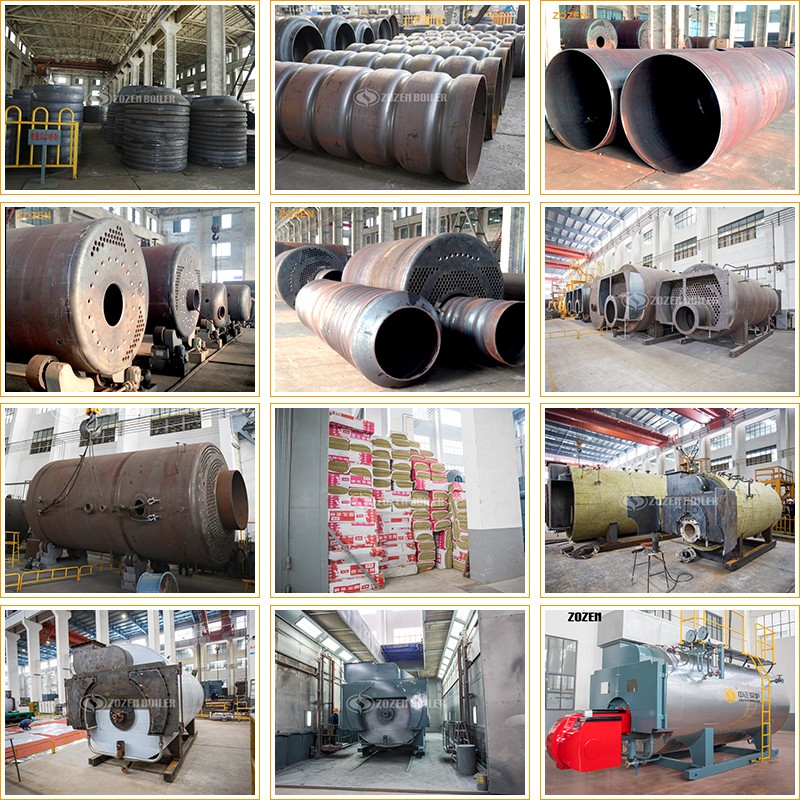 ZOZEN Factory
ZOZEN is one of the best modern boiler manufacturers in China, our products include steam boilers, hot water boilers and thermal oil heaters. ZOZEN boiler is located in Wuxi, covers 150 thousand square meters of production area, equipped with first-class production equipment, passed the ISO9001:2000 international quality system certification. The company gained the " S " and " U " steel seal from ASME of US.