Available industries:
Leather Factory
Project boiler medium:
Steam
As we all know, leather factory emissions out of the wastewater, air and solid waste, etc., the environmental pollution is very serious, so each region has strict requirements for the emission standards of leather factories. The production process of leather, whether ironing, embossing, or dyeing, all need high temperature for its treatment. Therefore, a stable boiler has a great impact on the whole production process.
Most of the leather factories are mainly fire tube boilers, which are designed with large diameter corrugated hearth, in combination with advanced combustion technology to ensure the full combustion of fuel, and with advanced low nitrogen burners, which effectively reduce the emission of harmful gases and meet the strict emission standards. The WNS series steam boiler has a high degree of automation, and the full touch screen control system can realize intelligent operation, adjusting the boiler operation status according to the actual steam consumption and production situation of the production line, effectively reducing labor costs.
On-site Picture of Gas Steam Boiler in Leather Factory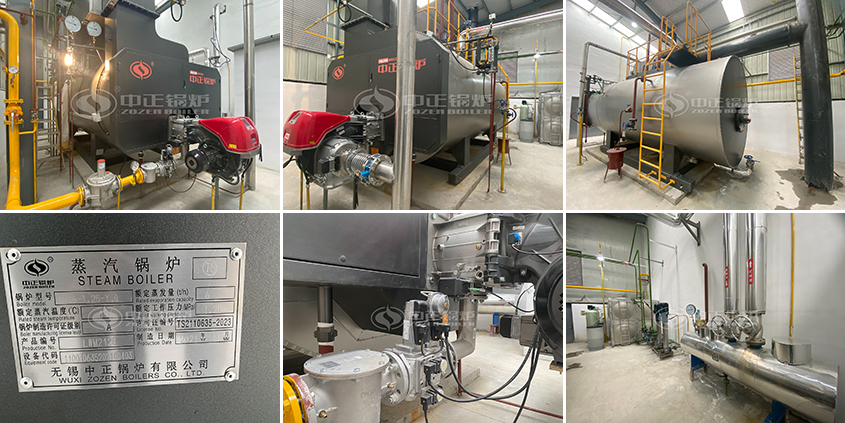 The customer chose ZOZEN as the fire tube boiler supplier for this project and purchased a 10 ton WNS gas-fired steam boiler, which has the characteristics of safe and reliable operation, high efficiency and stability, and is one of the most popular environmentally friendly industrial boilers at present. WNS10-1.25-Q produces 10 tons of steam per hour to provide a leather production line. The boiler adopts wet-back structure with full wrenching edge butt welds for high reliability and low maintenance cost. It is designed with various protection functions such as over-temperature, over-pressure, water shortage, leak detection and flameout, so that enterprises can use it with confidence.