Available industries:
PVC Film Production
Project boiler medium:
heat-conducting oil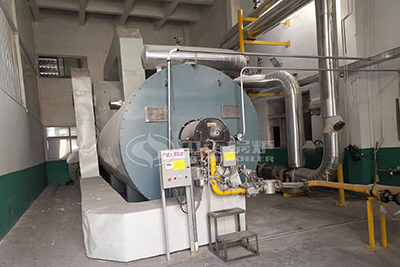 Minglong New Material Company mainly produces PVC film and various kinds of laminated and hot-melt fabric products. In order to meet the steam demand of the production line, it needs to purchase a new set of thermal oil boiler. After obtaining the customer's demand, ZOZEN's sales manager contacted the customer at first, further communicated the detailed boiler demand and the actual heat supply of the production line, and recommended a 4 million kcal gas thermal oil boiler for the customer.
YQW series thermal oil heater is a horizontal structure with three-return round coil tube structure and sufficient arrangement of heating surface to reduce the heat load on the surface of the tube, which makes the heat-conducting oil safer to use. This heat-conducting oil boiler is capable of stable heating up to 320℃ under low-pressure environment, with precise temperature control and high heat energy utilization. At the same time, this series of heat-conducting oil boiler adopts horizontal structure of the whole factory, the compact structure greatly saves the floor space of the boiler room, at the same time, the installation cycle is short, the boiler operation and maintenance is convenient.
For this cooperation, the customer expressed great affirmation. The sales manager's conscientiousness and responsibility and dedication to the whole project firmly demonstrated the professionalism and dedication of ZOZEN boilers. After a period of operation, the customer was also very satisfied with the quality of the boiler. ZOZEN's pre-sales and after-sales team provided perfect service and timely and high-quality training and guidance for the furnace operators during the trial run.