Available industries: Palm Oil Mill
Project boiler medium:Steam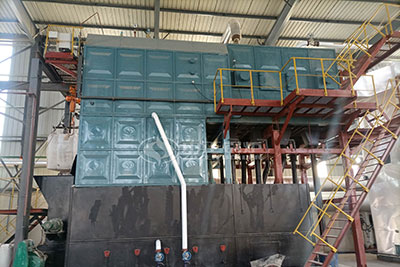 Introduction:
Indonesian palm oil factories require a reliable and efficient heating solution to meet their high demand for steam production. The customer, an Indonesian palm oil factory, needed a 15 ton steam boiler that could burn palm shells, a waste product from their production process. Choosing ZOZEN's 15 ton palm shell boiler allowed them to effectively save on fuel costs while meeting production steam needs.
ZOZEN's Solution:
The biomass boiler produced by ZOZEN can use palm shell as fuel, which meets the special needs of palm oil mill users. Palm shell is a byproduct of the palm oil industry and is often used as a biomass fuel for production. The use of palm shell as a fuel source is not only cost-effective but also environmentally friendly, as it reduces waste and promotes sustainability. ZOZEN's 15 ton palm shell boiler is designed to burn palm shell efficiently, with a high fuel-to-steam conversion rate of up to 88%. This makes it an ideal heating solution for Indonesian palm oil factories looking for a sustainable and cost-effective way to meet their heating needs.
Technical Specifications:
The 15 ton palm shell boiler has a capacity of 15,000 kg/hour of steam, with a pressure rating of 1.6 MPa. The boiler is designed to be highly efficient, with a thermal efficiency of up to 88%. The boiler is also equipped with advanced safety features, including automatic shutdown systems and emergency pressure relief valves.
Customer Feedback:
The Indonesian palm oil factory was impressed with ZOZEN's services and product. This SZL series biomass fuel boiler met all of their specical fuel requirements. The boiler has been performing exceptionally well, with a high level of efficiency resulting in significant cost savings. ZOZEN's sales manager solves problems for users in a timely manner during the cooperation period, allowing users to save worry and effort in the process of boiler purchase, installation and operation.