Available industries:
Textile Mill
Project boiler medium:
Steam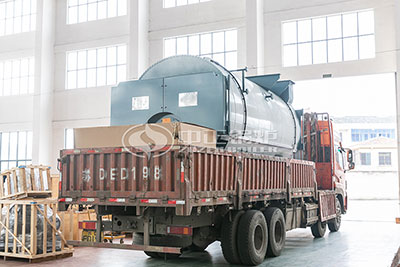 Case Introduction
Xinda Weft Knitted Fabrics Factory, established in 2003, is mainly engaged in the manufacturing of weft knitted polyester garment accessories, printing and dyeing of textile fabrics, and dyeing processing of loose wools, wool tops and cheeses. Its weft knitted fabrics with good elasticity, extensibility, softness and wrinkle resistance are favored by many customers. In order to meet the increasing market demands, Xinda Weft Knitted Fabrics Factory decided to expand the production and improve the production equipment including supporting heating equipment by purchasing a set of high-efficiency and energy-saving steam boiler. After investigating the boiler products on the market, Xinda Weft Knitted Fabrics Factory finally ordered a set of WNS series three-pass gas-fired steam boiler from ZOZEN Boiler who had completed the delivery recently.
ZOZEN WNS series gas-fired steam boiler has characteristics of high efficiency, low consumption, energy saving and emission reduction, which can effectively reduce the boiler operating costs and improve the economic benefits of textile enterprises. In terms of production equipment, ZOZEN possesses advanced automatic production lines to ensure the welding and assembly quality, so as to reduce the assembly stress and extend the service life of the boiler. In terms of production technology, ZOZEN WNS series boiler adopts the nationally advanced large-diameter corrugated furnace and independently developed threaded smoke tube and adds the economizer and condenser at the boiler end to improve the boiler thermal efficiency to 98% and above. By virtue of above advantages of WNS series boiler, ZOZEN Boiler has accumulated abundant project experience in the textile industry and also has reached the long-term and friendly cooperation with many enterprises in the textile, printing and dyeing industry.
Customer Feedback
From placing the order to finished product delivery, ZOZEN Boiler completed the design and manufacture of the boiler system based on our actual demands. Throughout the cooperation process, ZOZEN's professional service spirit and abundant industry experience had left a deep impression on us.