Boiler Project: Rice Mill in Pakistan
Boiler Model: DZL2-1.6-AII coal fired boiler
Description: Pakistan customer needs 2 tons coal boiler for own rice mill factory, they find ZOZEN from the online web. After careful communication and consideration they decided to make an order for DZL coal steam boiler.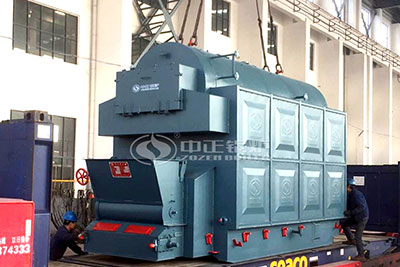 Advantage of DZL Coal Boiler
The thermal efficiency of DZL series coal-fired boilers reaches more than 82%, and the NOx emission is less than 100mg/Nm3. DZL series chain grate steam boiler for a single barrel longitudinal arrangement, the boiler body using arch tube plate and threaded pipe structure, threaded pipe for the boiler for many years of high efficiency heat transfer elements, after continuous optimization, its heat transfer coefficient is 1.8 times higher than the ordinary pipe, increase the heat conduction. In terms of manufacturing technology, ZOZEN boiler adopts pre-expansion for the smoke tube and tube plate to eliminate the gap between the tube and tube plate, and then adopts the welding technology of argon arc automatic welding to effectively eliminate the stress and prolong the service life of the boiler.