Available industries:
Pharmaceutical plants
Project boiler medium:
Steam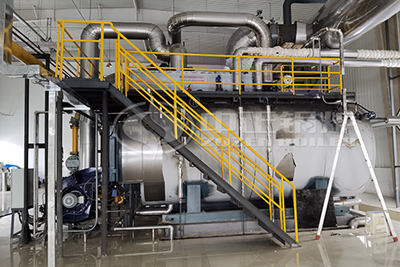 WNS series automatic oil and gas smoke tube boiler is a full wet-backed three-return industrial boiler, multi-unit multi-return tube process design makes the flow of flue gas achieve high-speed turbulence, eliminate the occurrence of tube process blockage, and strengthen heat transfer, reduce back pressure, and improve heat transfer efficiency. The boiler adopts high quality aluminosilicate fiber and refractory mud to control the temperature of the furnace body below 45℃, with good heat preservation performance.
ZOZEN's 5 ton smoke tube boiler supplies stable superheated steam for sterilization, rough washing, fine washing, drying and cooling processes in pharmaceutical plants, as well as autoclaving and sterilizing raw materials, instruments and equipment, and supplying heat for drying and cooling, and tablet pressing and granulation processes. Customers in pharmaceutical plants have strict requirements for the temperature of their production lines.
This 5 ton WNS gas-fired steam boiler uses natural gas as fuel. The structure of the boiler is optimized and reasonably designed, and equipped with an energy saver to reduce the exhaust temperature and achieve a boiler thermal efficiency of 98% or more, thus saving the operating costs of the company. With imported low-NOx burner, the combustion performance is good with low emissions, meeting the local environmental standards of the project. At the same time, WNS series gas steam boiler is highly automated, using automatic control system, the user only needs to easily set, the boiler will be able to automatically start and stop, adjust the temperature, pressure and other parameters, thus reducing the human error caused by the operation, more safe and efficient.