Available industries:
Textile Mill
Project boiler medium:
Steam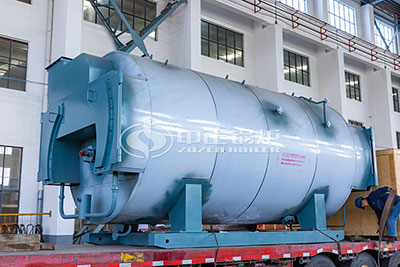 Case Introduction
Metal products mainly produce galvanized steel strip, hot and cold rolled steel strip, as well as other expansion products, such as galvanized steel pipe, light steel aggregate, cable modification materials, galvanized carbon steel, etc., widely used in building materials, photovoltaic, building decoration and agricultural greenhouse fields. 6 tons is a common tonnage for industrial boilers, suitable for many industries. This gas boiler room is a clean, pollution-free and energy-efficient boiler product. The boiler adopts all wet back structure, large diameter corrugated furnace, effective absorption of thermal expansion, radiation heating area is large, improve the operation environment of the boiler, prolong the service life of the boiler.
ZOZEN WNS series gas steam boiler adopts the three-way structure of corrugated furnace and threaded pipe, which prolongs the residence time of high temperature flue gas in the furnace and improves the heat transfer efficiency. It also installed a fuel economizer and condenser in the tail, which can increase the overall boiler efficiency to 98%. WNS series boiler adopts advanced low NOx combustion technology, which can reduce NOx emission to less than 30mg/Nm3. In order to meet the NOx emission standards set by the local environmental protection department. At present, WNS series boilers are favored by enterprises in various industries because of their high thermal efficiency and good environmental protection effect, and they are the star products of ZOZEN boilers.
This series of gas boiler whether it is the combustion process or the structure itself and the operation has a very high reliability, it will be reliable quality, advanced technology, fully meet the user needs of the design concept, as well as high efficiency, safety, environmental protection, high degree of self-control, many advantages, to provide you with high quality service. Factory for quick installation form, no special requirements for the foundation, quick installation, save installation and infrastructure investment costs. The front and rear smoke boxes are movable structure, and the explosion-proof door adopts the spring-type detachable structure, which can be conveniently inspected, maintained and cleaned inside the boiler.
Customer Feedback
From pre-sale to after-sale, ZOZEN Boiler has designed, manufactured, installed, and commissioned boilers in a professional and thoughtful manner, providing satisfactory after-sale service. We thank ZOZEN Boiler for the help, which was a pleasant collaboration.