Available industries:
Palm Oil Making
Project boiler medium:
steam
Capacity:
15 tons per hour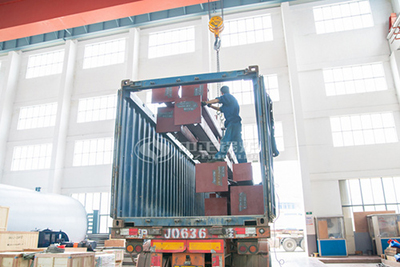 Indonesia is an important exporter of oleochemical raw materials and produces palm oil in abundance. Palm shells as waste can be used secondarily as fuel for raw steam boilers effectively reducing fuel costs and contributing to environmental protection. In the palm oil production process, there is a large demand for steam for processes such as de-bacterization, refining, bleaching and deodorization. The customer contacted ZOZEN Boiler through its agent in China and proposed to purchase a 15 ton steam boiler using palm shells as fuel.
ZOZEN's sales engineer contacted the customer at first, further communicated the actual steam consumption of the palm oil production line and the fuel used. As palm shell is a light and high moisture fiber fuel, to ensure the palm shell is quickly and well fueled, the palm shell must first be crushed into granular material and put into the furnace for combustion through the feeder. The design team of ZOZEN boiler customized the palm shell boiler system solution for the project was customized with a palm shell boiler system solution, which was successfully approved by the customer and a contract was signed for the supply and installation of a 15 ton palm shell fired boiler and supporting auxiliary equipment.
ZOZEN boiler's DHL series bulk biomass fired boilers have the advantages of compact structure, low steel consumption and fast temperature rise, etc. The DHL series boilers have a front and rear arch covered furnace structure, with a refractory concrete front arch as the ignition arch and a rear arch as the pilot arch in the lower section of the front wall of the furnace; at the same time, the air is fed from the equal-pressure uniform bin, the air distribution is regulated by micro-zone, and the wide coal arch design further improves the combustion efficiency and furnace temperature. At the same time, the equal-pressure uniform air supply, micro-zone regulation air distribution, and wide coal arch design further improve the combustion efficiency and furnace temperature. In addition, the boiler body and the middle partition wall are all sealed with membrane water-cooled wall to ensure the thermal efficiency of the boiler is over 82%.
This biomass boiler was manufactured and safely transported to the project site for installation within the contracted time. The customer expressed his gratitude to Wuxi ZOZEN Boiler Co., Ltd. for still doing an excellent job of manufacturing and transporting a series of DHL series boilers for our enterprise during the COVID-19. At the same time, during the pre-project communication, we felt the professionalism of ZOZEN Boiler, which really put forward a reasonable boiler system solution for us from the customer's perspective.