Available industries:
concrete mixing plant
Project boiler medium:
Steam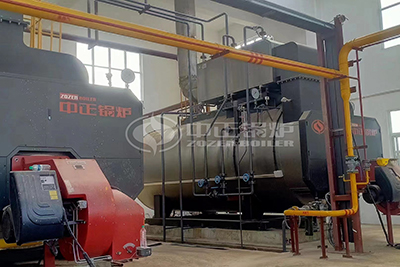 Industrial gas boilers are hot boilers from ZOZEN boiler factory. The reasons for the hot sales are firstly, environmental protection, secondly, thermal efficiency and thirdly, high degree of automation. ZOZEN's steam boilers have successful boiler projects in more than 100 regions around the world. The boiler model WNS3-1.25-Y/Q, a condensing low-NOx gas boiler sold to the Russia, is used in the concrete mixing plant of the customer's company to provide steam for the concrete making process.
The WNS series gas-fired steam boiler adopts two core technologies of FGR flue gas recirculation and group combustion, which can reduce the NOx emission to less than 30mg/m³ with full fuel combustion. ZOZEN boiler plant produces 3 tons gas fired boiler under full load operation, the output of 3 tons of saturated steam per hour, the boiler can use natural gas, tank liquefied gas and biogas and other gas fuels, the boiler of all the exhaust gas pollutant emissions are to achieve high standards, not only in line with the national environmental protection department requirements for environmental protection boiler standards, but also greatly reduce the cost of energy consumption boilers.