Available industries:
Industrial Steam Supply
Project boiler medium:
Steam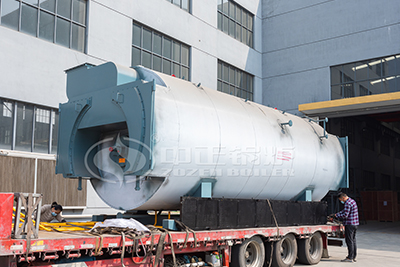 The customer purchased this 8 ton oil gas boiler for industrial steam supply, so the selection of the production equipment was very demanding. ZOZEN's oil-fired boiler with the internationally popular classic "wet-backed three-return" design structure, FRG flue gas recirculation, condensation control and other characteristic technical advantages made the Russian customer sign a contract for a complete set of 8 ton WNS saturated steam boiler, using natural gas and diesel as fuel without hesitation. In addition, based on the strict European boiler emission standards, ZOZEN equipped the customer with imported burners.
WNS8-1.25-Q model boiler system mainly consists of boiler body, connecting flue, burner, steam system, instrumentation, energy saver, condenser, etc. It has the advantages of complete combustion, energy saving and environmental protection, convenient operation, clean and efficient, and sufficient output. The automatic control system adopted by ZOZEN boilers ensures stable output of high quality steam and can adjust the boiler status at any time according to the actual usage, which meets the strict heat source requirements.
The customer is very satisfied with this cooperation, saying that no matter from pre-sales to pre-sales, always from the perspective of the enterprise, to provide the preliminary boiler selection guidance and boiler system customization services, and due diligence to complete the boiler manufacturing and installation and commissioning work. This WNS boiler is not only stable in operation, but also safe and environmentally friendly, such a ZOZEN gas boiler is worth recommending!