Available industries:
Textile Mill
Project boiler medium:
Steam
Equipment:DZL15-1.25-SCIII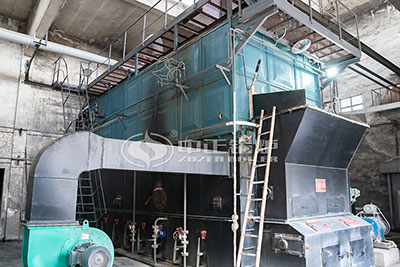 Case Introduction
Textile factory in the dyeing, drying and other production processes are inseparable from the stable and efficient heating equipment industrial biomass fired boiler. Textile mills involve the production of many fabrics, such as Australian wool, which are then striped, combed, spun, woven, dyed and finished. After mastering the actual requirements of the production line, ZOZEN designed the DZL series biomass fired three-barrel steam boiler system for customers. At present, this DZL series biomass combustion boiler has been successfully put into production; its efficient and stable performance has won the customer's high recognition.
This series boiler is a kind of water tube boiler composed of three drum, the lower drum has two, separated on both sides of the boiler. Flue gas from the furnace exit into the convection zone, the dust in the flue gas directly settled to the bottom of the convection zone ash hopper, and then through the rotary ash valve and ash pipe to put the ash on the grate, real-time ash release, from the structure to solve the problem of biomass boiler convection zone ash accumulation. In addition, through the way of spraying ammonia in the furnace, the nitrogen oxide emission concentration of the boiler can be controlled below 200mg/m3, and the environmental performance is outstanding.
Customer Feedback
We are very satisfied with the professional boiler custom service of ZOZEN Boiler. After the contract was signed, ZOZEN arranged professional engineers to have a deep understanding of our production process and equipment, and on this basis, the steam boiler system design can meet the actual needs of our production line. At present, this DZL series biomass burning steam boiler runs stably and has high thermal efficiency, which provides a reliable guarantee for our wool fabric production.