Available industries:
Dairy Plant
Project boiler medium:
Steam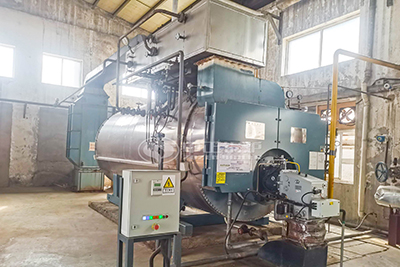 High-temperature steam is very important to the dairy processing and production process, and can directly affect the quality of dairy products. Among them, fermentation, disinfection, drying and other processes have high requirements for steam quality, so dairies should conduct a comprehensive investigation for boiler quality, installation process, and boiler manufacturer's strength when purchasing steam boilers. The customer contacted ZOZEN through the Internet and needed to purchase a steam boiler as an autoclave heat source and winter heating equipment.
After analyzing the production characteristics of the dairy, ZOZEN engineers found that the biogas fermented from cow manure can be used as boiler fuel after the process of desulfurization, purification and drying. ZOZEN's fire tube boilers can use biogas as fuel directly, which is very suitable for dairies. Combining with the actual steam demand of the production line, a 4 ton biogas fire tube boiler system was customized for the customer, which effectively helps dairies save fuel costs.
This WNS series biogas steam boiler uses cleaner and more efficient fuel, energy saving and emission reduction effect is better, can meet the environmental protection requirements. Highly automated gas boiler is equipped with automatic control system, the user only needs to easily set, the boiler can start and stop according to user requirements, load adjustment, automatic water supply and other fully automatic operation, not only to reduce enterprise labor costs can also effectively ensure the safety of boiler use.
Biogas boiler is a new type of environmental boiler suitable for farms, slaughterhouses and other places. In addition to WNS series boilers, SZS series gas boilers and YQW series heat-conducting oil boilers produced by ZOZEN can also use biogas as boiler fuel. In the food industry, ZOZEN boilers have rich project experience and certain popularity in the dairy industry, and have cooperated with many large dairy enterprises at home and abroad. For more biogas boiler information and project information, please feel free to contact us through online inquiry, email, WhatsApp, and our engineers will provide you with more details.