Available industries:
Cement Plant
Project boiler medium:
Steam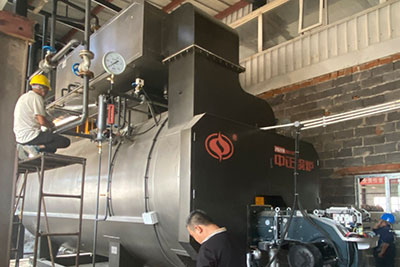 In the chemical industry, the production, drying and maintenance processes of cement require industrial steam boilers to provide high quality steam. The cement plant customer needed to purchase a fire tube steam boiler with stable operation, environmental protection and high efficiency. After understanding ZOZEN's qualification and strength, he directly purchased ZOZEN's star product WNS series gas steam boiler.
The WNS series two-pass boiler system adds energy saver and condenser, with a larger heat-absorbing surface at the end and lower exhaust temperature, making the fuel burn more fully, thus improving the boiler's thermal efficiency. It has been tested that the thermal efficiency of WNS series gas steam boiler reaches more than 98%, saving the cost of use for enterprises.
At the same time, this 8 ton steam boiler equipped with advanced fully automatic control system, simple and convenient operation interface, the user set according to the actual production needs, the boiler can start and stop as required, automatic adjustment of the operating parameters, and boiler system is fully functional, high safety performance.
The boiler has been delivered to the project site, and the boiler is shipped in one package, which greatly shortens the installation period, and is currently being installed and commissioned. The customer has given good comments on ZOZEN's service and is very satisfied with the cooperation process.