Available industries:
Sugar Factory
Project boiler medium:
Steam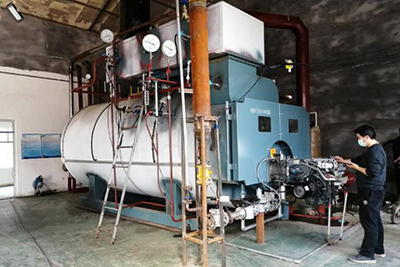 For sugar factories, industrial gas boilers provide high-temperature steam for the production processes of sugar cooking and crystallization, because the cooking temperature of sugar is too high sucrose tends to produce more caramel pigment; too low temperature makes the cooking time too long and converts more sucrose, which will reduce the crystallization rate of white granulated sugar, so a steam boiler that consistently provides high-quality steam is very important. The customer contacted ZOZEN through the online website and clearly requested the heating steam parameters for sugar cooking to be 0.5-0.8 MPa and the temperature to be 158.07-174.53℃.
In order to meet the customer's precise temperature requirements for the sugar production line, ZOZEN's engineers adopted an automated control system for this 9 ton gas boiler. The temperature sensor continuously collects temperature data and transmits it to the controller, thus realizing the control of the burner, which in turn ensures that the steam temperature output from the WNS series gas boiler is stable and controllable, enabling accurate control of the steam temperature and ensuring product quality.
WNS series gas boilers are well manufactured, and the threaded flue tubes, convection bundles and other boiler components are produced from advanced fully automated production lines. The uniformity of boiler component sizes makes it easier to achieve assembly between components, eliminating forced assembly and thus extending the service life of the boiler. The operating condition of the steam boiler directly affects the quality and output of the sugar factory's products, and ZOZEN's boilers are strictly inspected in every process so that users can use them with confidence.
This fire tube boiler is completed in the factory as a whole assembly, and after transported to the project site, it can be directly connected to the water and electricity piping for commissioning. ZOZEN boiler installers have repeatedly checked and rectified the boiler equipment, feed water system, all pipelines and system valves during the installation process. From the manufacture of boiler products, to the installation and commissioning of boiler projects, every aspect of ZOZNE boilers uphold a professional attitude seriously, currently running in the sugar factory this 9000 kg/h per hour gas fired boiler output all normal, the customer is very satisfied!