Available industries:
Paper Industry
Project boiler medium:
Steam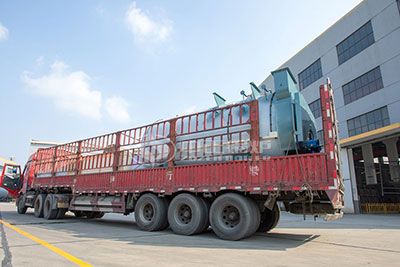 The efficient and stable WNS series gas-fired steam boiler can effectively improve the efficiency of corrugated paper production lines. The paper mill purchased a 2 ton gas-fired steam boiler from ZOZEN to provide a stable heat source for the production line. This boiler is a quick-install boiler product that only needs to be connected to basic piping in the boiler room before it can be put into use, saving the company's operating costs.
ZOZEN WNS series gas boiler adopts large-capacity furnace design, with sufficient steam storage space and heating surface, which can make the boiler produce high thermal power and high-quality steam. It is worth mentioning that ZOZEN adopts advanced CNC processing technology and strict quality management system to double check the boiler manufacturing and inspection, ensuring the safety and stability of boiler operation from the source.
WNS series condensing steam boiler adopts large hearth design, with thermal efficiency up to 98% or more and NOx emission as low as 30mg/Nm3; all of them also have the characteristics of fully automatic and safe operation. This boiler is also ZOZEN's best-selling product and has been operating stably in various industries.
ZOZEN has customized the WNS system solution to meet the process conditions of the paper mill customer: the WNS series boiler is equipped with energy saver, condenser and chimney at the outlet of the main engine, and the burner is an integrated type ultra-low nitrogen burner.
2 TPH WNS Gas Boiler Parameters
Water temperature at the inlet of the energy saver: 104℃, flue gas temperature at the outlet of the energy saver: 145℃
Condenser inlet water temperature: 20 ℃, the export water temperature of about: 60 ℃
Exhaust temperature ≤70 ℃, the system thermal efficiency ≥98.5%