Available industries:
Textile Industry
Project boiler medium:
Steam
Equipment:DZL2-1.25-SCIII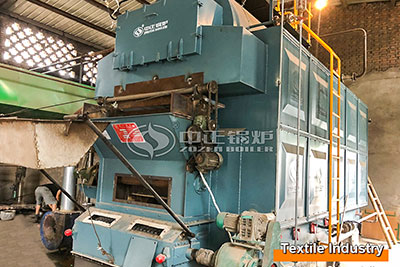 The project belongs to the textile industry, which requires high quality steam. Steam is a very important heat source in the sizing process, and the quality of sizing directly determines the quality of textiles, so the stability of the heating equipment and the high quality of steam have a great impact on textiles. The textile factory customer urgently needed a high-efficiency biomass steam boiler for heating and drying in its textile production process.
The customer investigated a number of related boiler manufacturers and contacted ZOZEN through the Internet, and was very satisfied with the brand strength and product quality of ZOZEN boilers. Firstly, the industrial boiler production process is mature and the quality of boiler equipment is guaranteed, secondly, the price of the complete set of boiler equipment is reasonable, so he immediately decided to buy a 2 tons biomass-fired steam boiler.
ZOZEN DZL series biomass boiler is a horizontal three-way water fire tube chain grate boiler, burning biomass pellets. The location and direction of the secondary inlet air are reasonably set in this type of boiler, which can disturb the flue gas in the furnace chamber and ensure complete combustion of volatiles. 2 tons of biomass steam boiler has a total weight of 22 tons and a length, width and height dimension of 5.7m*2.5m*3.5m, with a moderate boiler shape and stable and safe operation.
Meanwhile, the DZL series boiler adopts the high efficiency heat transfer element threaded flue tube researched by ZOZEN Boiler for many years, and the heat receiving surface is reasonably designed. After actual testing, the boiler thermal efficiency can reach more than 88%, which is higher than the average efficiency measured in the industry, helping enterprises to effectively reduce operating costs.
The customer said, "The biomass boiler produced by ZOZEN is now running steadily in our sizing plant, providing a constant supply of steam for the sizing process and meeting our production needs. We are very satisfied with the professionalism and service of ZOZEN industrial boiler manufacturer."