Available industries:
Central Heating
Project boiler medium:
Steam
Equipment:SZS40-1.6/250-Q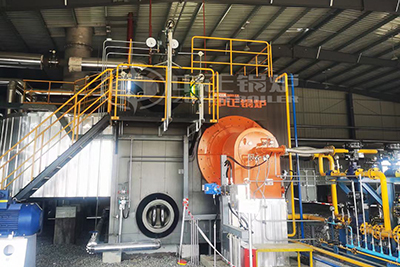 Inquiry Email: [email protected]
Thermal Energy Company issued a tender notice to purchase a 40 ton gas boiler to provide industrial steam and central heating for the enterprise. ZOZEN, as a well-known boiler brand with high quality products, rich service experience and advanced production level, successfully became the gas boiler supplier of Thermal Energy Company.
According to the actual steam usage of the thermal company, the ZOZEN team recommended the SZS series water tube boiler for the customer. This boiler adopts a large furnace chamber design and the combustion chamber is wrapped with a full-film water-cooled wall, so the boiler as a whole has good air tightness and the heat transfer effect is effectively guaranteed. It produces 40 tons of steam per hour and the steam temperature can reach 204℃, which can fully satisfy the daily use of the enterprise.
In addition, the SZS series boiler system is equipped with ultra-low nitrogen advanced burner to ensure full combustion of fuel and improve the utilization rate of energy. The boiler system can also be used with other energy savers, and the thermal efficiency of SZS series boilers can reach 98% after actual testing. It is also equipped with imported automatic oil and gas burner and advanced PLC computer control system, with automatic continuous water supply, programmed ignition, proportional pressure and temperature control combustion, flame out protection, various alarms, chain protection, graphic operation interface, large screen keyboard operation and other contemporary automation technology.
The 40 tph boiler is a large-tonnage industrial steam boiler, which is shipped ex-factory in an assembled form and then installed after delivery to the project site. The size of the boiler is related to the area of the boiler room and the footprint of the corresponding supporting facilities, and the transport weight of the SZS40-1.6/250-Q boiler from ZOZEN Boiler Factory is 80.4 tons; the maximum transport size of this model is 9280*3600*3618mm; the boiler will have an external dimension of 12.33*4.40*4.53m after installation. ZOZEN after-sales team will serve customers throughout the whole installation process.
The 40-ton SZS low-NOx energy-saving gas steam boiler meets strict emission standards and is suitable for customers regardless of their projects in that country and region, and customers can moreover use the products produced by ZOZEN with confidence! If you still want to know more information about our oil and gas boiler products, welcome to directly consult the 24-hour online customer service on the right, we will provide you with boiler parameters and quotes for free.