Available industries:
Fruit Processing
Project boiler medium:
Steam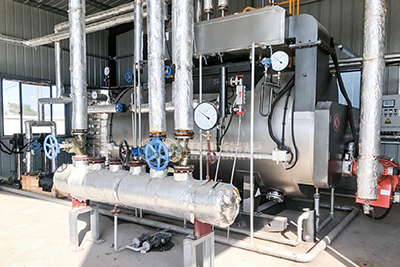 Industrial gas boilers for vegetable and fruit processing need to have stable heating capacity and intelligent control systems. Since ZOZEN boilers have a high reputation and excellent reputation in the food processing industry, the customer contacted ZOZEN directly to propose the need to purchase a steam boiler equipment, because the food industry attaches great importance to the production environment, so the gas boiler, a clean and environmentally friendly boiler products are most suitable for food factories.
According to the steam demand in the fruit processing process, ZOZEN customized a 4000kg per hour gas boiler system for the customer. WNS series industrial gas boilers are the hot models exported by ZOZEN boilers, with energy-saving and environmental protection, high thermal efficiency, highly automatic control system, beautiful and atmospheric shape, advanced structure, etc., which can be applied to all kinds of industrial production.
The WNS series three-return fire tube steam boiler from ZOZEN has a package structure that completes the overall installation at the time of factory production and covers a small footprint, making it the preferred industrial boiler furnace model for many small and medium-sized food plant users. This boiler adopts advanced low-NOx burner, which can fully burn the fuel and also effectively inhibit the generation of NOx, meeting the strict NOx emission standards. Meanwhile, the boiler system adopts automatic control system with easy-to-understand operation interface, together with interlocking protection devices to improve the safety performance of the boiler. The boiler system can automatically control and adjust water level, temperature, pressure, etc. by simply setting parameters.
ZOZEN has served users in 13 industries and accumulated 15,580 successful projects. If you need more information about boiler products, project status, company information, services provided, etc., please feel free to contact us online, by email or WhatsApp, etc.