Available industries: Paper Plant
Project boiler medium:Steam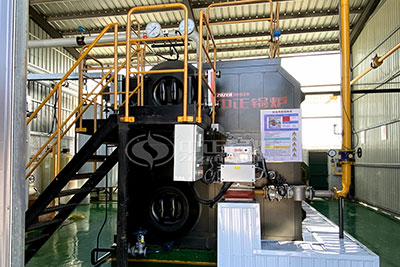 Jinchang Paper is a leading manufacturer of high-quality paper products. The company's operations rely heavily on steam, which is used for a range of purposes, including drying paper, generating electricity, and powering machinery. In order to meet its growing demand for steam, Jinchang Paper choose ZOZEN as gas-fired boilers supplier, to provide a reliable and efficient solution.
The SZS series 4 ton gas-fired steam boiler provided by ZOZEN has been installed at Jinchang Paper's manufacturing facility, where it is used to power the company's paper production operations. The boiler is capable of producing up to 4 tons of steam per hour, making it an ideal solution for high-demand applications in the paper industry.
The gas-fired boiler provided by ZOZEN offers a number of advantages that make it an ideal choice for use in the paper industry. These include:
High Efficiency: The boiler is designed to be highly efficient, with a thermal efficiency of up to 98%. This means that it can produce steam using less fuel, which reduces the company's energy costs and helps to minimize its carbon footprint.
Reliable Operation: The boiler is designed to operate reliably and efficiently, even in challenging conditions. It features advanced control systems that allow for precise temperature and pressure control, ensuring that the steam produced is of consistent quality.
Low Emissions: The gas-fired boiler produces low emissions, making it a clean and environmentally friendly choice. This helps Jinchang Paper to meet its environmental targets and comply with local regulations.
Jinchang Paper has been using the ZOZEN gas-fired boiler for several months, and the feedback from users has been overwhelmingly positive. Employees at the facility have praised the boiler for its reliability and ease of use, while management has been impressed with the cost savings and environmental benefits that it provides.