Available industries:
Chemical Mill
Project boiler medium:
Steam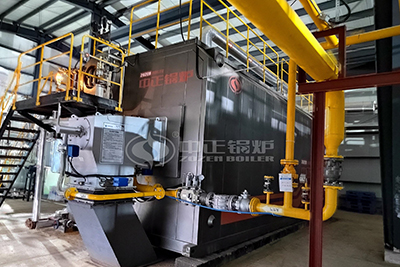 Inquiry Email: [email protected]
A chemical mill specializing in the production of permanganates, chromium salts, new environmentally friendly materials and other products needed to replace its old coal-fired boiler with a gas-fired boiler in response to environmental policies and rising coal prices. The purchasing manager of the chemical mill learned about the ZOZEN boiler brand through the Internet. After further communication, the customer was very satisfied with ZOZEN's production strength and rich experience in the chemical industry, so he put forward the demand for boiler replacement to ZOZEN's engineers.
According to the actual needs of the chemical mill production line, ZOZEN's engineers customized a low-NOx gas steam boiler system to produce 20 tons of high quality steam per hour with an operating pressure of 1.6 MPa. This SZS series water tube boiler is equipped with an advanced low-NOx burner, which effectively reduces NOx emissions below 30mg/nm3. Meanwhile, this 20 ton gas-fired steam boiler is equipped with an energy saver and condenser at the end, which effectively improves the thermal efficiency of the boiler and reduces fuel costs for the company.
The SZS series gas-fired steam boiler is a highly automatic steam boiler with simple operation and maintenance, together with a full range of safety interlocking devices, which effectively improves the safety performance of the boiler operation. This set of gas steam boiler was delivered to the customer and put into operation after the installation test was completed at the project site. So far, the boiler has been running stably, and the customer is very satisfied with the operation performance of this 20-ton gas boiler, saying that ZOZEN is a reliable partner.