Available industries:
Food Processing
Project boiler medium:
Steam
Equipment:SZL 20tons 1.6Mpa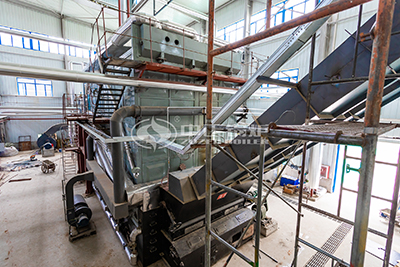 In the process of food processing, the steaming and drying of food require industrial steam boilers to provide a large amount of steam. For small and medium-sized food plants generally use coal-fired steam boilers under 6 tons, model DZL6-1.25-AII, which is a chain grate boiler with a proprietary arch design conducive to the combustion of poor quality coal and strong adaptability to coal types. For large processing lines, you can choose SZL series steam boiler, which is a new type of coal-fired boiler with water-cooled arch technology and membrane water-cooled wall technology of large chain grate boiler combustion system cleverly applied to the assembly boiler, energy-saving and high-efficiency features are loved by many industrial processing enterprises, the classic coal-fired boiler in overseas market.
The customer's company has a complete potato processing industry chain and wants to purchase an environmentally friendly coal-fired steam boiler as it wants to increase production and expand its production line. The customer contacted the ZOZEN team through the official website, and both parties communicated in detail about the needs of this coal-fired boiler. ZOZEN's design team customized the SZL series 20 ton coal boiler system solution for the customer. The customer intuitively understood ZOZEN's production environment and corporate strength through Facebook, YouTube and other self-media platforms, and finally decided to purchase a 20 ton per hour steam boiler produced by ZOZEN.
The environmentally friendly SZL series coal-fired steam boiler produced by ZOZEN Boiler fully meets the huge demand for heat energy in potato starch production such as dewatering, concentration and drying processes. The boiler has an assembled structure, consisting of two large parts, the upper part being the heating surface of the body and the lower part being the combustion equipment. According to the customer's clear requirements for environmental protection, the designer equipped the boiler with reasonable dust removal, desulfurization and denitrification facilities, which effectively reduced the emission of air pollutants such as nitrogen oxides and sulfur dioxide and helped the company to meet the air pollutant emission standards for boilers required by the local environmental protection bureau.
ZOZEN completed the production of the 20 tph water tube boiler within the specified time and delivered it on time to the project site for installation and commissioning. The customer indicated that the boiler, with easy installation and operation and high thermal efficiency, not only met the actual needs of the production line, but also greatly saved fuel costs.