Available industries:
Feed Mill
Project boiler medium:
Steam
Capacity:
6000 kg per hour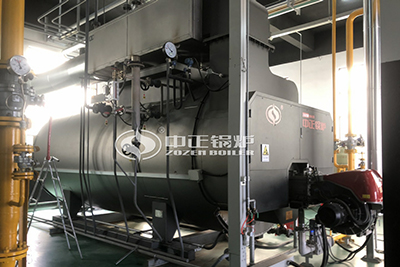 Inquiry Email: [email protected]
Feed mills have very high requirements for industrial gas steam boiler. The steam produced by the boiler needs to ensure that the temperature and moisture of the material meet the standard requirements, which is the key to determining the quality of the feed. Therefore, during the procurement process, the customer chose the energy-saving and high-efficiency WNS series packaged gas boilers.
ZOZEN's designers customized the 6 tph gas steam boiler system solution to achieve better energy saving and emission reduction according to the actual usage requirements of the customer. The WNS series gas steam boiler is the star product of ZOZEN's environmentally friendly boilers. the design of large diameter corrugated furnace gallbladder not only ensures sufficient heating surface and steam storage space, but also ensures full combustion of fuel, and with the international advanced low The WNS oil-fired gas boiler is designed with a large diameter corrugated hearth, which not only ensures sufficient heating surface and steam storage space, but also ensures full combustion of the fuel, and together with the international advanced low-nitrogen burner, it can easily achieve ultra-low NOx emission.
This WNS oil gas fired boiler has ample heating surface, which can effectively and fully absorb heat, low exhaust temperature, low heat loss, sufficient power output and high thermal efficiency. At the same time, the energy saver and condenser at the end of the boiler flue effectively improve the boiler thermal efficiency to more than 98%. At the same time, this series of boilers are highly automated, just set easily, the boiler can achieve fully automatic operation such as start and stop, load adjustment, automatic water feeding, etc. as required, reducing the labor cost in boiler operation.
The boilers produced by ZOZEN all adopt automatic submerged arc welding, and the advanced process of pre-expansion and then full welding of the tube plate and flue tube, followed by expansion, not only prevents tube gap corrosion, but also enhances the welding strength. The front and rear flue box doors of the WNS series gas boilers both adopt combined openable flue box doors, which are easy to access and clean.