Available industries: Pharmaceutical Factory
Project boiler medium: Steam
Equipment: DZL4-1.25-SCIII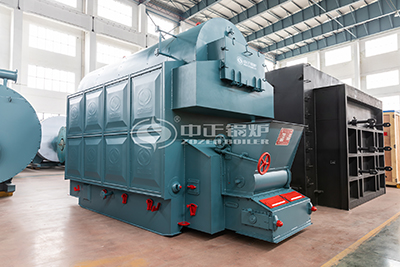 As an important heating equipment for pharmaceutical plants, biomass steam boilers provide high-temperature steam in the heating, concentration, drying and sterilization processes of pharmaceutical production, so the quality of steam directly affects the quality of medicines. Due to the current rise in energy costs, biomass boilers can directly use crops as fuel, including palm husk, rice husk, straw, corn cob, peanut shell, coconut shell, wood chips, shredded wood, etc., making it the boiler type of choice in many industrial productions.
ZOZEN was contacted by a comprehensive pharmaceutical company that integrates research, production and sales and needed to purchase a new steam boiler in order to meet its production needs. After in-depth communication with the customer, ZOZEN's sales engineer customized a DZL series biomass steam boiler system for the customer's pharmaceutical plant to produce 4 tons of steam per hour to ensure production efficiency.
The DZL series biomass-fired steam boilers produced by ZOZEN Boiler Factory are suitable for a wide range of fuels, allowing customers to select fuels according to actual production conditions. ZOZEN's design team will match different grates according to actual customer needs, thus ensuring full combustion of fuels and effectively reducing fuel costs. The series boilers have reasonable arrangement of furnace arch, furnace wall and furnace heating surface, and adopt ZOZEN's self-developed high-efficiency heat transfer element threaded flue tube to enhance the heat transfer effect, and the thermal efficiency can reach 88%.
The pharmaceutical factory 4 ton biomass steam boiler is a quick assembly boiler, which was transported to the project site as a whole after the manufacturing was completed in the factory, and put into trial operation after the installation was completed. The customer is very satisfied with this cooperation with ZOZEN boiler factory, both the quality of industrial biomass boiler and the overall service are highly praised, the customer said ZOZEN is a recommended boiler supplier.