Available industries:
Paper Industry
Project boiler medium:
Steam
Equipment:ZZ35-3.82/450-M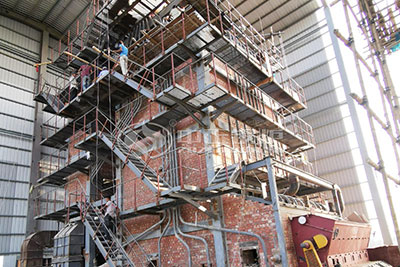 Case Introduction
The environmental protection coal-fired steam boiler developed by ZOZEN adopts membrane water wall structure on both sides of the furnace and the burning chamber, which has high efficiency, strong overload capacity and wide adaptability of coal types. This coal-fired environmental protection boiler adopts bilateral air inlet, and six independent air chambers are arranged longitually along the grate. There are independent air conditioning devices between each air chamber to adjust the air volume of each air chamber respectively, so as to achieve the best adjustment of combustion effect, saving about 30% than similar large bitty coal boilers, saving about 50% than briquette boilers, etc.
Industrial coal-fired steam boiler is the main power of paper mill production, such as the preheating of raw materials, pulp cooking steam heating, drying dryer, etc., as long as it is needed to heat cannot be separated from the steam boiler. The Rashid Paper Mills produces 200 tons of Paper per day. To ensure the heat supply for the production line, Rashid Paper Mills Ltd. ZOZEN ZZ series moderate medium pressure boiler was purchased. The design pressure is 3.82 MPa, and the boiler can provide enough high temperature steam.
ZZ series medium temperature boiler has the advantages of wide fuel adaptability and high combustion efficiency. At the same time, ZOZEN engineers customized the 35tons boiler system to meet the actual requirements of the production line at the Rashid Paper Mill. ZZ series coal-fired boilers adopt wide coal type furnace arch design, which can increase the furnace temperature. At the same time, the ventilation of the isobaric storeroom and the air distribution in the micro-zone are designed to reduce the carbon content in the slag and thus improve the overall combustion efficiency. In addition, this series of boilers are on-site assembly boilers, technical personnel and installation personnel have high requirements. To ensure the successful completion of the project, ZOZEN's technical staff provided effective on-site guidance to Rashid Paper Mills Ltd.
Customer Feedback
We have had a pleasant cooperation with ZOZEN and are satisfied with the reliable boiler and one-stop service. At present, the assembly of the boiler body has been completed, and the construction of the furnace is about to be completed. The boiler will be put into service in a short time.