Available industries:
Industrial production
Project boiler medium:
Hot oil
Capacity:
1.6 million kcal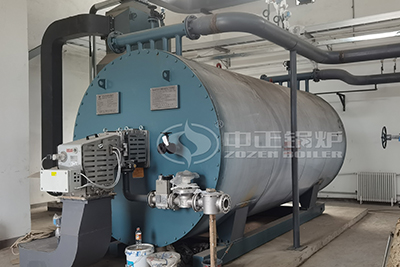 The customer from a company specializing in the production of copper laminates needed an industrial boiler to dry semi-finished products, and the drying process requires very strict temperature requirements. After a series of detailed communication, ZOZEN customized a gas-fired heat-conducting oil furnace system to meet the customer's production needs. This YQW series 1.6 million calorie thermal oil heater boiler can use natural gas, biogas, liquefied gas and other combustible gases as fuel, and can output high temperature of 320℃ at low pressure, and the thermal efficiency can be as high as 95% or more, with good environmental performance, energy saving and high efficiency, which is a very popular heat transfer oil furnace product in the market.
ZOZEN produces thermal oil heater boiler body adopts multi-loop coil design, and the coil end adopts indented coil, which effectively protects the furnace wall at the end of the boiler and has strong safety. Meanwhile, the boiler adopts microcomputer intelligent control system, which can operate fully automatically and adjust combustion, high tank level, outlet temperature and flow rate automatically, etc. The operation is simple and easy to understand, which can effectively avoid the risk brought by human factors and provide guarantee for the safe production of enterprises.