Available industries:
Lithium Battery Industry
Project boiler medium:
Steam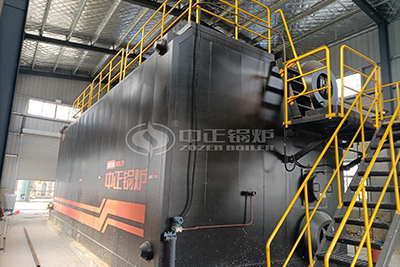 Inquiry Email: [email protected]
ZOZEN is a professional industrial boiler supplier, providing high quality industrial boiler products and boiler system solutions for many electronic battery projects, which bring great economic and environmental benefits to enterprises. In the production process of lithium-ion batteries and related products, processes such as coating, drying, evaporation and concentration require large amounts of thermal energy support, and different processes have different demands on temperature. Therefore, as a necessary heating support facility for the lithium-ion battery industry, the stable and reasonable heating of industrial steam boilers directly affects the product quality.
According to the actual steam demand of the battery production line, ZOZEN's technical team customized a 20 tph gas-fired water tube boiler for the customer. This SZS series gas-fired steam boiler has the advantages of full combustion, energy saving and high efficiency, clean environment protection, compact structure, simple operation and easy installation. ZOZEN will provide customers with one-stop project services from boiler system design, manufacturing, transportation to installation and commissioning.
SZS condensing oil gas boiler is a D-type arrangement of fast-assembled water tube boiler with NOx emission far less than 30mg/m3, which is a classic product of green environment protection and fully complies with the strict emission standards. ZOZEN produces this series of 20 ton steam boilers with high thermal efficiency, high degree of automation, safe and reliable operation, equipped with intelligent boiler IOT system & remote monitoring system, and the boiler manufacturing process adopts integral heat treatment process, which can effectively eliminate residual stress, ensure the overall quality of the product and significantly extend the service life of the boiler. It has become the first choice of customers in various industries.
ZOZEN Boiler has completed the installation and commissioning of the SZS series gas-fired steam boiler system for a customer in the battery industry and has officially put it into operation. During the operation of the boiler, the steam output is sufficient, the thermal efficiency is high, and the ultra-low nitrogen emission of 30mg/Nm is easily achieved, which makes the customer very satisfied. With the rapid development of the lithium industry, battery manufacturers can only maintain continuous competitiveness in the market by continuously improving performance and reducing corporate costs. In the future, ZOZEN boilers will continue to output energy-saving, low-carbon and low-emission boiler products to add more powerful kinetic energy to the development of lithium industry users.