Available industries:
Food Factory
Project boiler medium:
Steam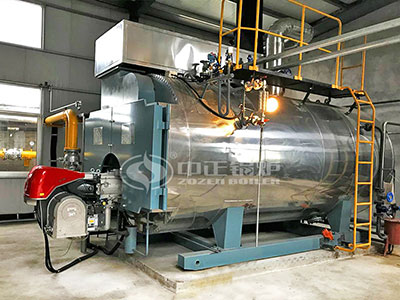 The food factory needs a large amount of high temperature steam for the meat production process, such as steaming and sterilization, filling and other processes, and the steam boiler is a core equipment for the company. The customer put forward strict requirements in terms of environmental standards, and ZOZEN engineers recommended the WNS series condensing gas steam boiler for the customer. This gas boiler has wide fuel adaptability and can be applied to natural gas, light diesel, blast furnace gas and other clean energy sources. The boiler is equipped with a low-NOx burner, which can easily achieve ultra-low NOx emissions and NOx emissions below 30mg/Nm3; meanwhile, the WNS series oil-fired gas boilers are equipped with fully automatic intelligent control features, which can ensure long time safe and stable operation.
Gas Boiler in the Case
The meaning of WNS8-1.25-Y(Q):
WNS: horizontal internal combustion indoor boiler.
8: rated evaporation capacity of 8 tons per hour.
1.25: rated pressure of 1.25Mpa.
Y(Q): fuel is oil or gas