Available industries: Papermaking Mill
Project boiler medium:Steam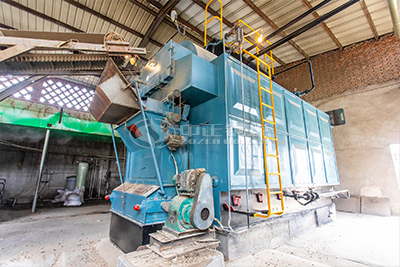 One of ZOZEN's customers in Cote d'Ivoire is a renowned local papermaking mill. The increasing production demands led to the existing boiler equipment being unable to guarantee stable production efficiency. Therefore, the paper mill looked for a high-efficient and stable industrial steam boiler to ensure production efficiency and product quality. After a strict investigation of several boiler manufacturers, they selected a 4 ton wood chip steam boiler produced by ZOZEN. This DZL series biomass boiler has wide fuel applicability. According to the characteristics of the paper production line, ZOZEN's engineers customized a wood chip fuel steam boiler for the Cote d'Ivoire paper mill, effectively reducing fuel costs by using surplus wood shavings as fuel.
When this DZL series 4 ton wood chip boiler was delivered to the Cote d'Ivoire paper mill, it encountered installation challenges. ZOZEN's after-sales service team assisted the customer in solving the problem the first time and provided detailed installation and maintenance suggestions to the local installation team, ensuring the smooth installation of this DZL series wood biomass boiler.
Currently, this ZOZEN 4 ton wood biomass boiler has been put into normal operation, and the responsible person of the Cote d'Ivoire paper mill is very satisfied with the boiler's operating status and ZOZEN's one-stop service, giving a high evaluation. As a professional industrial boiler manufacturer with over 30 years of experience, ZOZEN will continue to prioritize the needs of customers and provide high-quality boiler products. Please feel free to contact us for more details about the boiler.