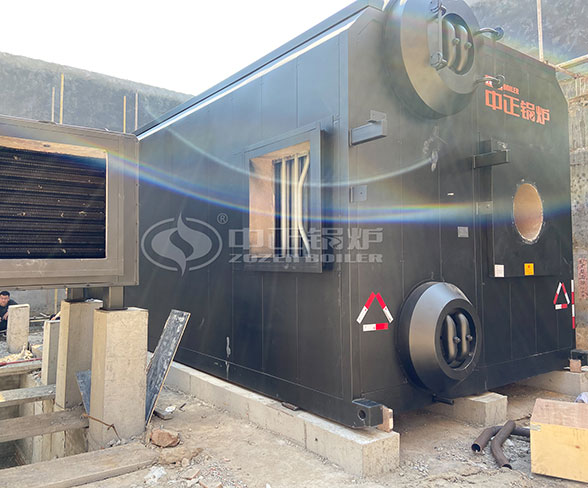 Place of Origin: China
Brand Name: ZOZEN
Certification: ISO, CE, ASME
Model Number: SZS20-1.25-Q
Minimum Order Quantity: 1 set
Price: Contact Online Customers for Latest Price
Payment Terms: L/C, T/T
Packaging: Nude packing with foam for boiler body, wooden case for boiler accessories.
Detail Information
Output:

Steam

Steam Capacity:

20 Ton Per Hour, 20000kg/hr, 20tph, 12000000kcal, 14000kw

Fuel Design:

Nature gas, coke oven gas, blast furnace gas, carbon black off-gas, biogas, LPG, diesel, heavy oil, light oil, crude oil, etc.

Design Pressure:

1.25-5.3 Mpa (12.5bar to 53bar)

Warranty:

1 Year

Structure:

D-type chamber combustion structure

Factory:

ZOZEN boiler Co., Ltd.

Application:

Heat supplying, chemical, food, textile, printing and dyeing, cigarettes and tobacco, fodder, pharmacy, building materials, brewery, rubber, hospital etc.

Style:

Horizontal

Design Efficiency:

High Effciency 95%-99%

Condition:

New

Use:

Industrial

Product Name:

SZS Series Gas Oil Fired Boiler
Gas Fired Steam Boiler Introduction
SZS series boiler is designed with longitudinal double drums and " D " type chamber structure. Furnace is placed on the right and convection tube bank is on the left, super heater is arranged at convection tube bank. The body is fixed on the basement by middle and both end flexible supports and make the boiler expand horizontally sideways. Around the furnace is membrane water cooling tube wall. Furnace and tube bank are totally separated by the membrane water tube cooling wall at the left side of the furnace. The back part of bundle is sparse shift structure, front part is aligned structure. Smoke from furnace outlet enters re-burning chamber, convection tube bank area and then from left front part enters spiral fine coil economizer and condenser, and finally is discharged to atmosphere through chimney.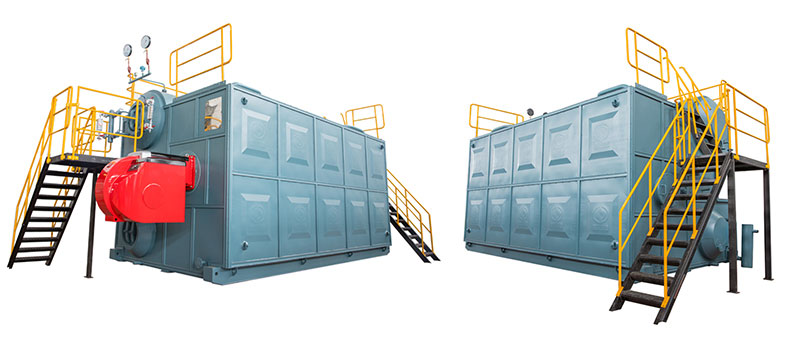 Technical advantages
Safety

Boiler body uses the forced circulation in the high temperature area to make sure all heating areas can be cooled down and avoid vaporization; The explosion door and flame detector are equipped for safe and reliable operation. Comb plates are used between both sides of boiler and tube bundle to avoid leakage of condensate and gas caused by using refractory concrete as sealing material. Air proof test is done before delivery in the factory to guarantee any gas leakage problem.

Environmental protection

Big combustion chamber equipped with Low emission combustion burner effectively reduce the NOx to 30mg/m3. Smoke duct and smoke outlet use internal insulation to reduce operating noise.
Combustion chamber uses full membrane water cooling wall structure and pressurized combustion without smoke mixture.

Energy conservation

Good quality alumina silicate fiber and fire clay insulation material are used and the boiler body temperature is controlled below 45℃ and greatly heat loss is reduced. Combustion chamber is designed with narrow distance tube membrane water cooling wall which has good air proof to reduce heat lost and increase boiler thermal efficiency. Internal inspection holes uses high-alumina refractory and manhole cover seal devices, solving superheat problem in this part caused by using refractory bricks.

Convenience

Manholes are placed on the front and back side of drums and inspection doors on back side of boiler easy to open for inspection and clean inner and outer parts.

longer lifespan

Membrane structure are used in the front and back wall for boiler body and highly increased their lifespan to over 20 years.
The key processes including material cutting, rolling, drilling are done by advanced CNC machining process to reduce the assembly stress and extend boiler service lifetime.
Flutter prevention fastener is used for high temperature part convection tubes, which avoid convection tube cracking problem.
Longitudinal and girth joint adopt advanced automatic submerged-arc welding for good welding quality. All longitudinal and girth joint will be tested by radiographic inspection.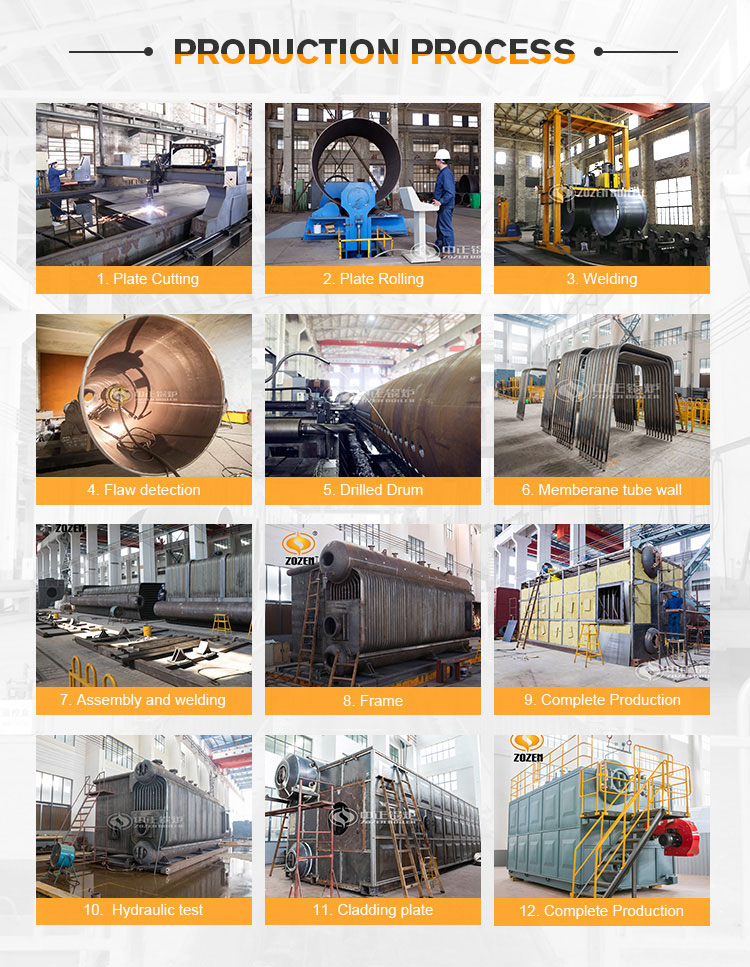 ZOZEN Factory
ZOZEN is one of the best modern boiler manufacturers in China, our products include steam boilers, hot water boilers and thermal oil heaters. ZOZEN boiler is located in Wuxi, covers 150 thousand square meters of production area, equipped with first-class production equipment, passed the ISO9001:2000 international quality system certification. The company gained the " S " and " U " steel seal from ASME of US.