Available industries:
Fruit Processing Line
Project boiler medium:
Steam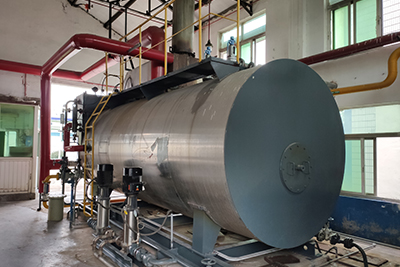 ZOZEN can produce the 8 ton gas boiler model WNS8-1.25-YQ, which has a beautiful and generous appearance. The boiler is installed as a whole at the production base, making transportation more convenient, and the boiler can be delivered to the project site for commissioning after a simple external piping installation, which is a good choice for customers with a tight project schedule and can also effectively save boiler room construction costs.
A customer from a food factory in the Philippines visited ZOZEN's website through a search engine and was attracted by the examples of boilers serving various industries on the website, leaving his need for a steam boiler. The customer needed a steam boiler to provide 8,000 kilograms of steam per hour for the fruit processing line, to provide high quality steam for food steaming, canning, etc. to ensure food quality and safety, and to fully meet the high environmental requirements of food processing production.
ZOZEN's sales engineers communicated with the customer in depth about the overall situation of the production line through both WhatsApp and email, and recommended the WNS series 8 tph oil gas fired boiler, which uses clean energy gas as fuel and does not require a separate space to store fuel, which is very convenient and clean. Due to the new crown epidemic customers could not visit the ZOZEN factory; engineers used live broadcast, video and other ways to visually show customers ZOZEN's production strength and the process level of the production line, further increasing customers' trust in ZOZEN Boiler Company.
WNS series gas steam boiler is a new boiler product developed by ZOZEN Boiler, which belongs to pot shell type tri-backhauling fire tube boiler. This model boiler system mainly consists of boiler body, connecting flue, burner, steam system, instrument, energy saver, condenser, etc. It has the advantages of complete combustion, energy saving and environmental protection, convenient operation, clean and efficient, and sufficient output. The automatic control system can produce more accurate and stable output steam for enterprises. WNS series gas steam boilers achieve low emissions of NOx≤30mg/Nm3 through low nitrogen combustion technology, reducing environmental pollution and meeting strict local emission standards.
ZOZEN completed the production of this 8 ton gas fired boiler in Philippine and delivered it to the customer for installation and commissioning within the agreed time. The boiler is now running very stably at the project site, and the customer said it was a pleasant cooperation, and the efficient work and professionalism of the ZOZEN team made it easy to solve all problems.