Available industries:
textile industry
Project boiler medium:
HMO (Heat Medium Oil)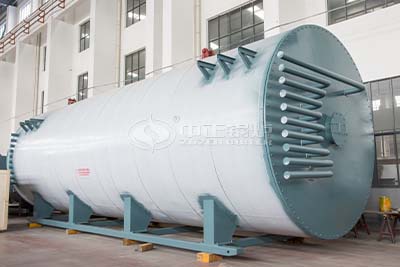 Introduction
In the textile industry, printing and dyeing is a very important process where textile materials are subjected to repeated washing and drying processes, which consume a lot of heat and water. The textile factory approached ZOZEN Boiler and purchased a 10 million kcal gas-fired thermal oil heater. This series of heat transfer oil system has sufficient output power and high thermal efficiency to meet the high temperature heat requirements of the textile factory's dyeing and finishing line.
The YQW series thermal oil heater produced by ZOZEN adopts three-way circular coil structure. The end of the coil adopts conical coil, which effectively protects the boiler end furnace and ensures long-term, safe and stable operation of the boiler. The boiler also adopts counter-current heat transfer process, which has good heat transfer effect. The overall thermal efficiency of the boiler can reach over 95% through the highly efficient heat transfer system at the end of the boiler. ZOZEN's patented building installation equipment can completely remove residual water through hydrostatic pressure testing. It can reduce the oil dewatering time from 12 days to 3 days, which greatly saves the user's boiler commissioning cost and has been well received by the user.
Gas-fired thermal oil boiler is an internal combustion boiler product, in addition to natural gas fuel, but also suitable for liquefied gas, LPG, as well as diesel, heavy oil and other fuels, heat-conducting oil as the medium, the use of hot oil circulation oil pump to force the medium for liquid-phase circulation, the heat energy to the heat-using equipment and then return to the heating furnace reheating, with a low pressure to obtain a high working temperature, and can work on the operation of the medium for high precision control. Good temperature control system and safe and efficient operation of heat production state.