Capacity: 6 ton
Pressure: 0.7 – 2 Mpa
Fuel: diesel, heavy oil, light oil, crude oil, etc.
Industries: Heat supplying, chemical, food, textile, printing and dyeing, cigarettes and tobacco, fodder, pharmacy, building materials, brewery, rubber, hospital etc.
6t Oil Boiler in Textile Industry Project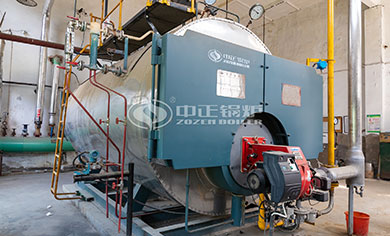 WNS Series Oil Boiler Introduction
Industrial WNS series oil boiler have automatic protection functions such as high and low water level alarm, extremely low water level, ultra-high steam pressure and flameout. The 6t oil-fired steam boiler is fitted with movable front and rear smoke caps to facilitate boiler maintenance. WNS series boilers have simple water circulation, reasonable structure of pressurized parts and safe operation under the condition of ensuring water quality.