Available industries:
Feed Mill
Project boiler medium:
Steam
Equipment:WNS10-1.25-Y(Q)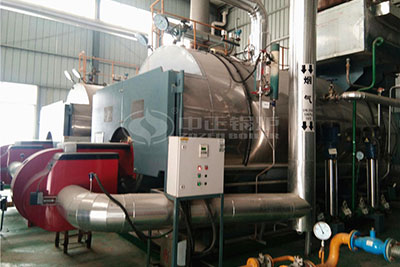 The customer purchased the boiler mainly for temperature and moisture control in the feed pelletizing process. According to the actual usage requirements of the feed mill production line, ZOZEN customized a 10 tph WNS series gas boiler for the customer. The unique design of this three-return horizontal steam boiler enables full combustion of the fuel, while the energy saver and condenser equipment at the end of the flue ensures a 98% thermal efficiency.
Gas Boiler in the Case
Capacity: 1 ton, 2 ton, 3 ton, 4 ton, 5 ton, 6 ton, 8 ton, 10 ton, 12 ton, 15 ton, 20 ton
Design pressure: 1.0Mpa(10bar/10kg/145psi), 1.25Mpa(13bar/13kg/180psi), 1.6Mpa(16bar/16kg/232psi)
Stem temperature: 184ºC, 194ºC, 205ºC, 226ºC
Design fuel: natural gas, lpg, lng, cng, city gas, biogas, diesel oil, heavy oil
Structure: three pass fire tube wet back