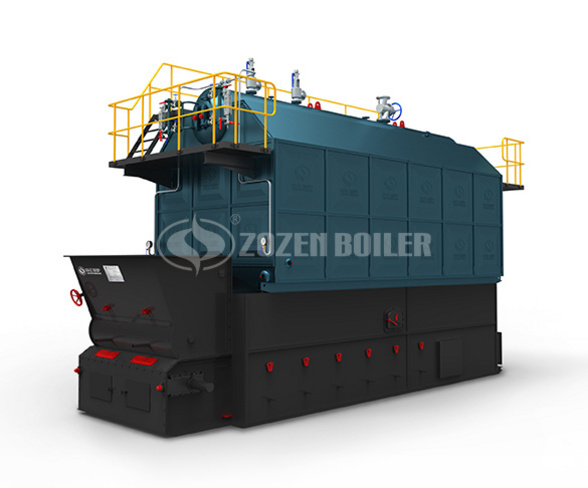 Capacity: 4 – 35 t/h
Pressure: 1.0 – 2.5 Mpa
Temperature: 184 – 350 ℃
Fuel: Biomass molding granules, wood chip, corn cob, saw dust
Industries: Heating, chemical, food, tobacco, textile, print and dyeing, feed, medicine, building materials, wine, hospital
Product Description
SZL series twin-pot vertical chain grate biomass boiler has high automation level, safe and stable operation, strong fuel applicability and high smoke emission standard.After the furnace for the combustion chamber, convection tube bundle, the tail of the economizer.The flue gas enters the tail flue through the furnace, combustion chamber, convection tube bundle and economizer, and is discharged into the atmosphere through the dust collector, induced fan and chimney.The front wall is arranged with secondary air, controlled by the valve, which is put into use when burning biomass fuel, intensifying combustion, fully burning out the fuel and improving combustion efficiency.Use higher feed ports to meet the demand for biomass fuel.
Technical Advantages
Running Stability
The convective layout heating surface has high heat exchange efficiency, the efficiency characteristic of boiler operation is stable and has certain overload operation capacity.
Steel tube cutting, thread tube pressing and convection tube processing all adopt advanced CNC technology.
High Performance
The water circulation system is reasonable, the water capacity is big, the steam space is big, the steam quality is good.
The cross section ratio of descending surface and ascending tube of each heating surface is reasonable and the combustion condition is stable.
The matching of front and rear arch is reasonable, the coverage rate of furnace arch is large, the temperature of furnace chamber is high, and the combustible volatiles of coal are more than 20%.
Control Air Volume
Each air chamber can be adjusted artificially according to the air quantity required by each combustion stage of fuel, the transverse air pressure is the same, no deviation burning phenomenon will occur, the lower part of each air chamber is provided with a draw-down cast iron ash door, not easy to deformation, easy to use, good sealing performance.When the coal content in cinder is less than 10%, the thermal efficiency of the boiler is about 82%.