The chain grate boiler is a very traditional furnace type. It mainly burns fossil fuel coal. It has the characteristics of fast installation, material saving, labor-saving, compact structure, and small footprint. The steam produced is more suitable for small and medium-sized processing and manufacturing enterprises; the hot water produced is more suitable for hotels, guesthouses, and bathing centers. As a classic furnace type, what is the thermal efficiency?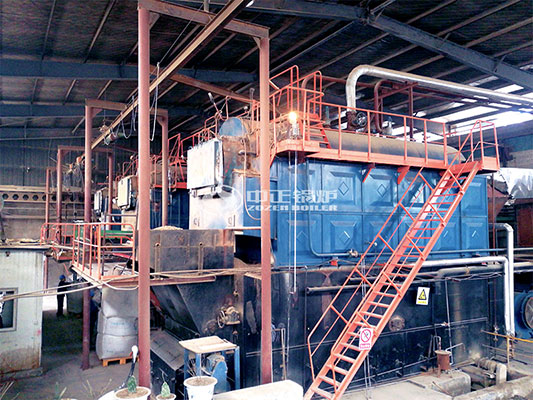 The chain grate boiler belongs to layered combustion, which is only suitable for solid fuels. It is the main combustion method of small boilers. In the daily operation process, it is necessary to manually or mechanically send coal to the fixed or movable grate to form a coal seam, which is sent from below the grate into the air, through the gap of the grate and through the fuel layer to burn the fuel.
What is the structure of the DZL chain grate coal-fired boiler? The combustion equipment of the DZL coal-fired boiler is a chain grate, the main machine is a single-drum vertical arrangement, and the left and right sides of the furnace are equipped with light pipe water walls. DZL series adopts light chain belt grate with high degree of automation, equipped with dust removal equipment, less environmental pollution, and has good comprehensive economic and technical indicators, and is well received by consumers.
The thermal efficiency and other parameters of the DZL chain grate coal-fired boiler are as follows:
Capacity: 2-20 tons of steam
Thermal efficiency: >88%
Available fuel: Biomass particles
Available industries: Heating, chemical, food, tobacco, textile, printing and dyeing, feed, medicine, building material, wine, rubber, hospital