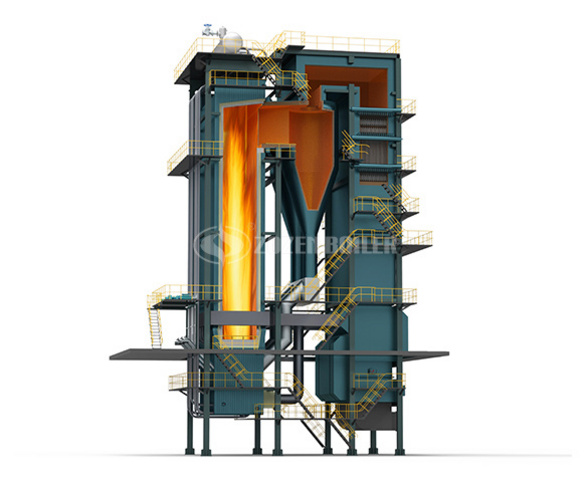 Capacity: 58 – 116 MW
Pressure: 1.25 – 1.6 Mpa
Temperature: 90 / 70 ℃, 150 / 130 ℃
Fuel: Coal, gangue, biomass, waste, sludge
Industries: Centralized heating
Product Description
DHX series coal fired horizontal hot water boiler makes coal and air in a fluidized combustion chamber with mixed burning, with a large number of fine particle materials after the furnace exit flue gas entrained by the solid material in gas-solid separator separation. The flue gas into the tail heating surface. By separator materials collected down by return feeder was sent into the combustion chamber cycle again.The combustion efficiency is up to 98%, the thermal efficiency is up to 88%, and the load can be adjusted between 30% and 110%, which is equal to the comprehensive utilization of ash and slag.
Technical Advantages
Extensive Fuel Adaptability
The circulating fluidized bed is a fast bed, which can keep the temperature in the furnace uniform and keep the same, and the fuel can burn immediately when it enters the furnace. Therefore, the circulating fluidized bed can burn all kinds of fuel without auxiliary fuel, which has good fuel adaptability.
High Efficiency
The industrial coal fired boiler has a circulation separation device, after continuous optimization and improvement, the efficiency of the separator is up to 99%, the thermal efficiency of the boiler is also up to 85%, the combustion efficiency is above 98%.
Wide Range of Boiler Load Regulation
A large amount of hot bed material reserve so that the fluidized bed hot water boiler has a good load regulation performance, load regulation range.
Environmental Protection
Due to the characteristics of low-temperature combustion of fluidized bed boiler, the generation and emission of SO2 and NOX can be effectively suppressed, and the desulfurization rate of about 90% can be achieved with proper amount of limestone. Therefore, this economical and effective low-pollution coal burning technology has been widely applied in the world.