Available industries:
Bamboo and Wood Fiber Processing
Project boiler medium:
Steam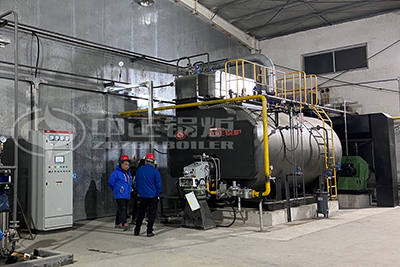 Inquiry Email: [email protected]
Biomass Energy's customers need to purchase a complete set of production equipment for the biomass bamboo fiber production line, of which the steam boiler as an important heating equipment in the purchase of the customer attaches great importance, because the stability of the steam boiler and the quality of high-temperature steam has a direct impact on product quality. In the process of bamboo fiber processing, high temperature steam is needed to heat and soften the raw materials for rough processing, and then refined to make the product fiber, so it is very important for the customer's production line to have sufficient steam supply and good and stable quality.
According to the actual production steam demand and process characteristics, ZOZEN's technical team recommended the WNS series two-return fire tube boiler, which uses natural gas as fuel and produces 6 tons of steam per hour with a frontal steam temperature of 194°C. This 6 ton capacity fire tube boiler has stable operation, high thermal efficiency and fuel consumption of 432m³ per hour after optimal configuration, which is a typical model of energy-saving and high-efficiency boilers. the combustion chamber of WNS series gas boilers produced by ZOZEN adopts a large furnace chamber design, with sufficient steam storage space and heating surface, together with ultra-low nitrogen burners, which can ensure full combustion of fuel and effectively suppress the generation of nitrogen oxides from the source, providing Energy saving and emission reduction for enterprises, fully complying with the strict local environmental protection standards of the project.
For small manufacturing enterprises to effectively control production costs is also an important measure, ZOZEN stands in the customer's perspective, from the configuration of this 6-ton gas steam boiler to optimize, in addition to the boiler equipped with energy saver condenser and other equipment, but also increased the air preheater, the use of high-temperature flue gas heating air to improve the combustion environment and strengthen the radiation heat transfer in the furnace. After multiple heat transfer, the flue gas temperature of ZOZEN gas steam boiler is reduced from about 180℃ to 60℃, and the thermal efficiency of the boiler is increased to more than 98%, and the fuel saving is about 10%, further improving the overall energy utilization rate.
The customer not only felt the production strength of ZOZEN for this cooperation with ZOZEN but also was very satisfied with the service of the whole team, from pre-sales consultation, design solutions to visiting the boiler manufacturing process and production base through the network cloud, although there was no field visit to the ZOZEN factory, but also had an accurate understanding of ZOZEN, and was able to deliver the boiler within the agreed time after signing the contract, providing installation and commissioning training guidance, regular return visits, etc. The service is thoughtful and professional, and is a recommended industrial boiler brand.