1 ton diesel steam boiler achieves the advantages of full combustion, no pollution, convenient operation and convenient installation; this type of boiler has high thermal efficiency, large output, and strong load adaptability, high degree of automation, easy operation, safe and reliable operation Ideal high-efficiency, low-consumption, and low-pollution green environmental protection product.
1 ton diesel steam boiler / gas steam boiler is widely used in hospitals, schools, textile factories, garment factories, clothing supermarkets, garment factories, dry cleaners, restaurants, hotels, steamed shops, hotels, canteens, restaurants, food factories, beverage factories , Soy Products Factory, Meat Products Factory, Canned Food Factory, Winery, Pharmaceutical Factory, Packaging Factory, Building Material Factory, Paint Factory, Bath Center, Sauna, Steam Room, Baby Swimming Pool and other enterprises and institutions.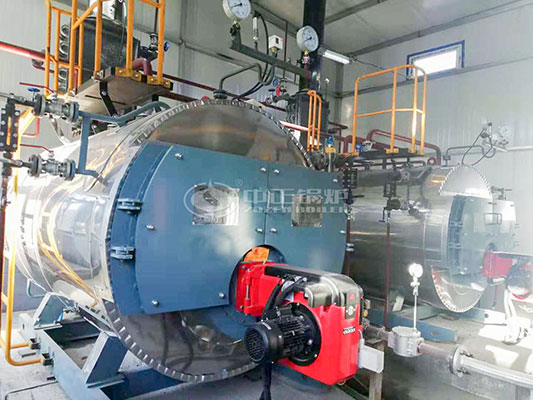 A 1 ton oil-fired boiler refers to a rated evaporation capacity of 1 ton or a rated thermal power of 0.7 MW, which means that it can produce 1 ton of hot water or steam per hour. The fuel consumption calculation formula of the diesel boiler is calculated as follows: the fuel consumption per hour of the diesel boiler = 3600 * heating power / heat value / boiler efficiency, and the 5 ton diesel boiler consumes 330kg of diesel per day.
Product Info:
Model: WNS1-0.7-Y(Q), WNS1-1.0-Y(Q)
Brand: Zhongzhen Boiler
Thermal efficiency: 98%
Available fuel: Nature gas, coke oven gas, biogas, methanol, liquid propane gas, diesel, heavy oil, light oil, crude oil, etc.
5 ton diesel boiler of Zhongzhen Boiler Factory is composed of upper and lower drums, membrane water-cooled walls, convection tube bundles, energy-saving devices, and condensers. After the fuel is burned in the furnace, the flue gas is discharged into the chimney through the convection tube bundle and the flue gas waste heat recovery device. The furnace adopts membrane water-cooled wall structure, and the boiler adopts airtight inner protective plate with fully enclosed welding structure. The furnace wall has good sealing performance; less smoke exhaust loss and high thermal efficiency.