Firewood boilers use fuels such as firewood, rice husks, straw, etc. The fuel selection is flexible and widely used. The boiler adopts large furnace design, water and fire tube structure, reasonable heating area layout, good heat transfer effect, strong sealing, small heat loss, high thermal efficiency, energy saving 5-10% operating cost, and high cost performance.
First, the structural characteristics of wood-fired boilers
1. Large furnace door design, convenient loading
Combined with the size of firewood, the large furnace door design is adopted, which is convenient for feeding and easy to operate;
2. Threaded smoke pipe design, good heat transfer effect
The smoke pipe is designed with a thread structure, and the size of the thread is carefully calculated and designed, so that the smoke pipe does not accumulate dust and wear, prolong the time of the smoke in the smoke pipe, and improve the heat utilization rate of the smoke;
3. The secondary air distribution design is adopted to improve the burnout rate. The reasonable air layout design allows the fuel to be burned fully and thoroughly, the burnout rate is high, and the thermal efficiency is improved;
4. Intelligent control system, safe and stable operation, controls the operating pressure, water level and temperature of the boiler within a safe range to ensure the safe and stable operation of the boiler.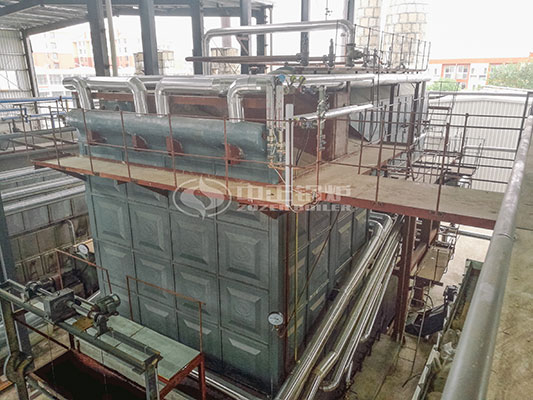 ZOZEN Biomass Boiler rationally designs the structure according to different fuel characteristics to ensure the full combustion of the fuel; it solves the problems of ash formation, coking, abrasion, burning before the arch, and burning hopper.
Capacity: 0.5t / h-75t / h
Working pressure: 0.7-5.4MPa
Thermal efficiency: above 88%
Applicable fuel: biomass pellets, firewood, palm husk, coconut husk, sawdust, straw, corn cob, rice straw, etc.
Model: DZL, SZL, SHL series
Advantages of biomass boilers:
1. Economy: Biomass boilers mainly burn biomass particles, and biomass particles use wood chips and straw as fuel, indicating that the operating cost will not be too high. Biomass boilers are the most economical boilers after coal-fired boilers.
2. Environmental protection: The smoke exhaust standard of the biomass boiler has reached the national standard, so the biomass boiler has become a hot type in the industrial boiler market in recent years.
3. The biomass boiler has a super-strong conversion system, and the heat transfer speed is faster.